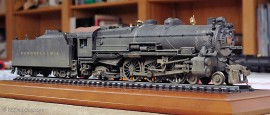 I have a fair amount of experience weathering military models like the Tamiya RC Tanks, but this was my first crack at weathering an HO locomotive.
I chose a 10+ year old Bachmann K4 Pacific from my collection as my first test subject, mainly because the Bachmann K4 is a fairly inexpensive, decent-running and detailed model that I wouldn't be heartbroken over if it didn't turn out well. This locomotive is not a limited run release like those from most other manufacturers and there are still plenty to be had if a replacement is ever needed. So, with limited risk at stake, onto the workbench it went.
I used a combination of pastel chalks in various shades of dirt and gray colors and Poly Scale acrylic paints in railroad colors, airbrushing the final result with Testors Dullcote to seal it all in. I think I need to go over the bell and whistle yet because they are to "new" looking in shiny brass. My reference photo of a prototype K4 shows the bell just as blackened as the rest of the loco since it was downwind of the smokestack.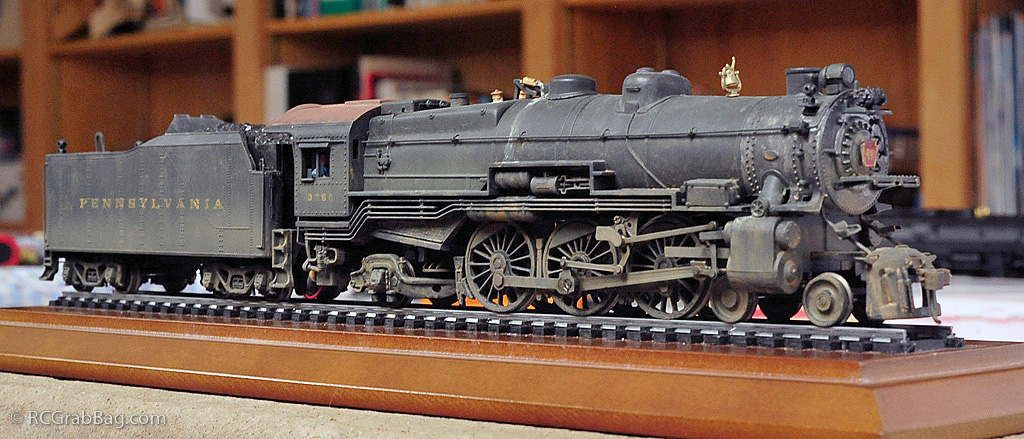 I'll share more of my technique in future installments as I work on my weathering "system".  As I look over this photo, I need a little touch up work to enhance the realism. There's a bit of a curve in transitioning military weathering techniques to railroading, so I'll need some more practice.
Oh, what did the locomotive look like before the dirt and grime started flying? I didn't take any "before" photos, so I tracked one down off the internet:

Not exactly the same model (different pilot), but it is a K4 with the same PRR paint scheme.
Originally posted 2013-05-17 19:20:24.
You might also like: