Initially I wasn't interested in the Empire Builder edition of Walthers "Name Trains", but the more I looked at it, the more I liked it. Problem was, it was released in 2007, a long time ago as of this post.
I tracked down the various pieces for the 2007 run, but fortunately for those of you interested in this set, Walthers is reissuing all the pieces of the Empire Builder set in 2013-2014. Improvements have been made since the 2007 run, like passenger cars that have factory-installed grab irons (standard stuff these days) as well as factory installed lighting and window tinting. The set you see in this post is from the 2007 run, where the cars do not have the grab irons installed, nor lighting, nor window tinting.


The full A-B-B-A consist of EMD F3's with DCC/Sound is a handsome quartet! These too, are being reissued with factory installed Tsunami DCC/Sound, or straight DC.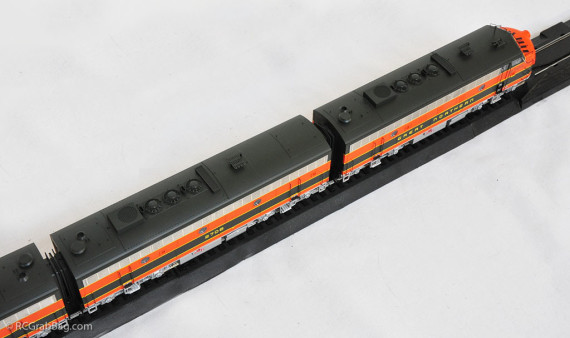 Watch out for details on top of these A and B units. The A unit has an antenna over the cab that sticks straight up, and is very easy to bend. It's molded in plastic, so it's very fragile. The B unit also has some fragile protrusions, but not quite as bad as the A unit.


The passenger cars are beautiful. As stated previously, the 2007 run does not have the grab irons installed, and there are a lot of them. So expect a fair amount of assembly time to get them all installed on the earlier models. And of course if you want lighting, Walthers also makes lighting kits, but you'll need to install them.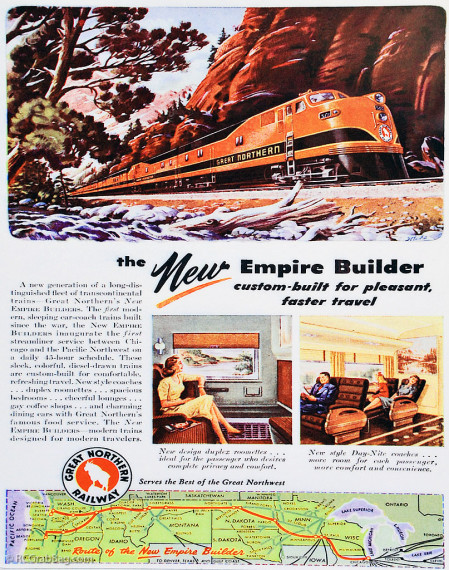 I picked up this metal placard off of ebay. It's a promo piece for the empire builder that should look nice hung on the wall in the layout room.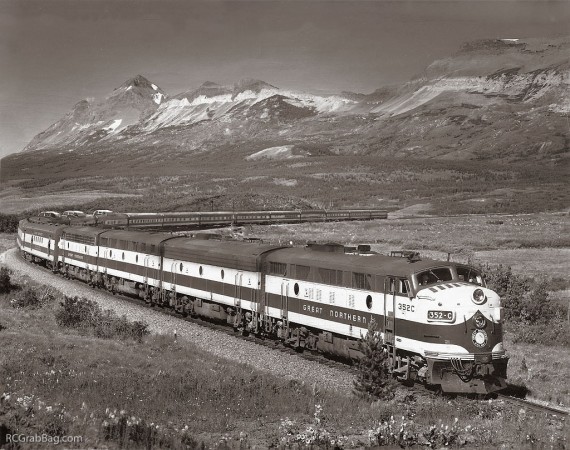 This black and white publicity photo shows the Empire Builder in a valley in the Rocky Mountains.
Here's some video of the Empire Builder on my club's layout. The Budd "Great Dome" car is missing from the consist. Although I do have the car, the 3-axle trucks were having difficulty getting through some of the layout's switches, so they'll need some work.

NOTE: to keep the site running smoothly, product data is only refreshed once every 10 minutes, approximately. Click on a product to see the most up-to-date data on the seller's page.
Originally posted 2015-08-31 18:33:33.
You might also like: