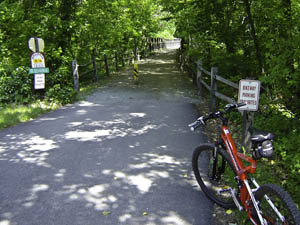 The weather was great so it was time to hit the dusty trail…
Truth be told I took this ride about two weeks ago.  Although I've ridden shorter distances since then, the last few days the weather has been less than ideal with temperatures hovering around 100F.  This evening as I write this, thunderstorms are finally moving in, signaling a temperature change for the better on the way.
On the day of this ride, temp was around 55F (as indicated on my Protege 9.0 Bike Computer) when I left around 7:45am on Saturday, May 24th.  I took the Mongoose for this ride, just to see how it would do on a ride with a decent distance.  The week before I took the Trek. 
Another truth to be told, I actually took these pictures on the return trip; however, I'm posting them in order as if I took them heading out.  I took them on the return trip because I wanted a workout on the way out, so I rode straight on through without stopping.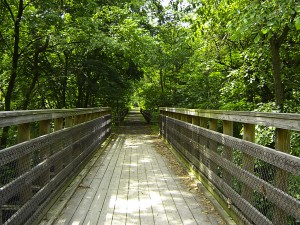 Two miles into the ride and I cross the first of a number of bridges.  This is one of the old railroad bridges crossing a section of the Perkiomen Creek.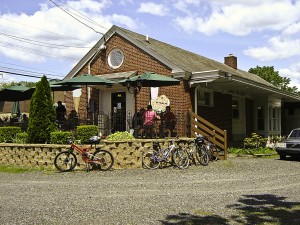 At 7.8 miles is The Eatery.  This is a great place to stop on the return trip for a bite.  As you can see, a lot of cyclists stop here for that reason.  Eating a meal and then riding another 8 miles may not seem like the greatest idea, but so far I haven't had a problem.  The trail from this point home is fairly flat, with the worst hill going up my street and up my driveway!  Not good for cooling down.  I usually have to putter around in the driveway for about 5 minutes after a ride.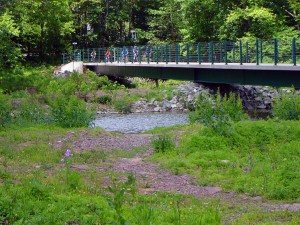 About 11 miles out, this is one of the newer purpose built bridges.  I have to say I really appreciate my town's effort in making the trail a really nice experience.  It seems they've went the extra mile (as it were), in keeping the trail to itself most of the time, crossing roads only when absolutely necessary.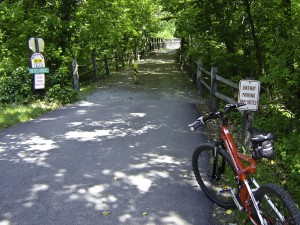 Another rails to trails bridge conversion.  This one is out near Cider Mill Road around 15 miles out.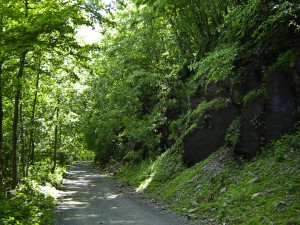 More of the trail's railroad heritage is evident in many sections like this where the hillside was blasted away, exposing great walls of rock, to make room for the railroad's right-of-way.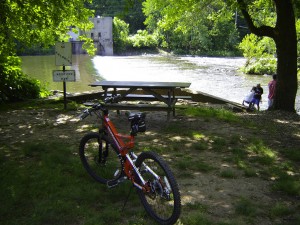 Plenty of places to stop along the way and take a break.  This is a picnic area with a potty if nature is calling.  I'm at about mile 18 here.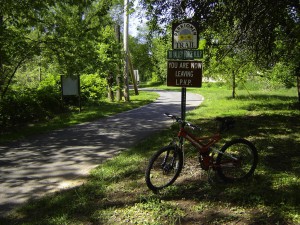 I've reached the end of the Perkiomen trail at about 19 miles.  From here the trail joins the Schuylkill River trail which I can take all the way to Philadelphia if I want.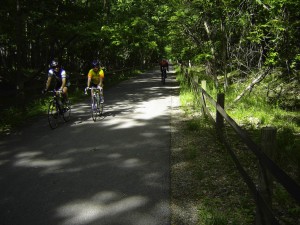 Valley Forge Park at last.  I covered about 23 miles in 1.6 hours, avg speed 14.4 mph (again as indicated by the Protege).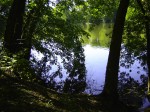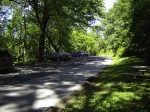 Some views from where I'll turn around.  Left is the Schuykill River and right is the parking area for one of the trail's main starting/finishing points.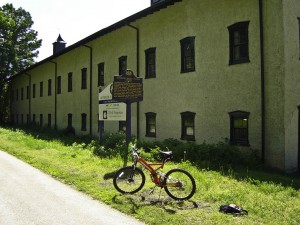 Nearby is this former movie studio.  Back in the early 1900's they made quite a few films here.  Today it is an office building.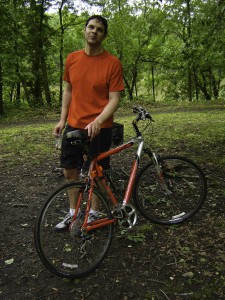 This is riding buddy Bob with his new Gary Fisher hybrid, and sporting a color-coordinated riding outfit – stylin'!   
So we've covered about 46 miles round trip. The return trip takes longer not only because of the photos and stopping to get a bite to eat, but also because the ride is uphill for the most part. It's a very slight grade, but it is uphill (as made evident by the water flowing in the opposite direction – water flows downhill in case that wasn't obvious).
You might also like: