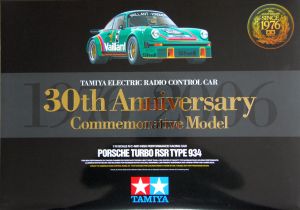 In 1976, Tamiya stormed onto the R/C car scene with the 1/12 scale Porsche 934.



In 2006, Tamiya issued a modern day version of the 934. The new version shares little in common with the original beyond the name. The most obvious change is that the hard plastic body has been replaced by a polycarbonate version. A peek inside the box will quickly illustrate Tamiya's plastic model heritage. The body is a very detailed scale version of the 934 and is made from hard styrene plastic. Styrene was the material of choice for car bodies for Tamiya for several years to come until polycarbonate became more popular. There are separate castings for headlight lenses, signal lenses, windscreens, and many other detail parts.



Once the shrink wrap is removed, the inner contents reveals a nice mix of old and new. The colors on the inserts are similar to the original, especially the insert holding the body. There are some nice anodized aluminum parts. Vacu-formed blisters holding the parts are a nice retro touch.


Engineering schematic box art (a Tamiya staple) shows the chassis layout of the new 934. Not at all like the original, but that's to be expected, of course. It's interesting that this kit does not come with a motor. I guess Tamiya figured as a collector's piece, few will be driven, so why include a motor?
Originally posted 2015-01-09 05:29:09.
You might also like: