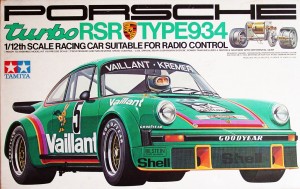 In 1976, Tamiya stormed on to the R/C car scene with the 1/12 scale Porsche 934.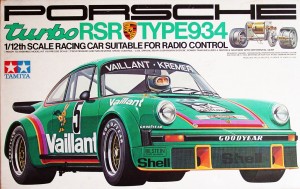 In real life, the 934 was a race-ready turbocharged 911 variant that you could buy from your local Porsche dealer for a small fortune. In releasing the 934 as an R/C kit, Tamiya created a template for many R/C models to follow. The first thing anyone notices is the beautiful artwork on the front of the box.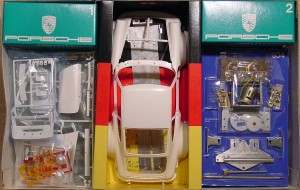 Inside, Tamiya neatly arranged the items and put many of the metal parts under blister pack.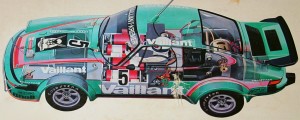 Additional box are shows a semi-transparent cutaway of the inside of the model.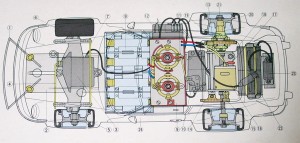 Also on the box is a engineering schematic highlighting the major parts and layout of the model.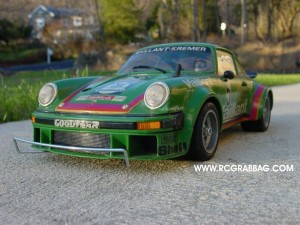 The old saying "they sure don't make them like they used to" certainly applies here. When first making R/C kits, it was apparent that Tamiya was drawing on it's vast experience as a plastic model company. It's no doubt that many of the body components in the R/C kit were taken directly from their static 934 kit.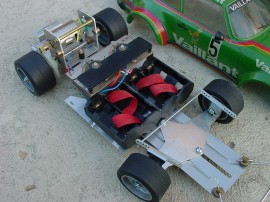 This is about as basic as it gets. Chassis is a stamped aluminum plate with plenty of flex (it served double-duty as the car's "suspension"). In the center is a battery holder for four "C" sized cells. Behind the battery holder is the speed controller with two wipers-one for forward and one for reverse directions. Propelling the vehicle is a smallish 380 size electric motor, but the car could be retro-fitted with an optional 540 sized motor and mount.
Originally posted 2015-08-10 17:16:58.
You might also like: