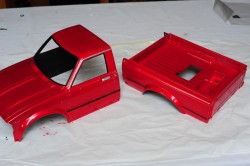 After a careful wet-sanding with 2000-grit sandpaper, the Mountaineer body is in the process of receiving trim paint.
Except for the smallest of details, I generally mask EVERYTHING and spray paint, rather than use a brush. Shown here is the body with the black weatherstripping accents around the windows and molding along the side panels. The rain gutter was painted chrome silver.
I've had this new-built chassis sitting around awaiting the finished body. Re-issues from Tamiya are making jobs like this easier. While expensive, re-issued Mountaineer body kits are available, and contain all those little bits like mirrors, decals, windshields, available in brand-new, pristine condition.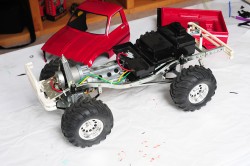 See the original Mountaineer article for the full story.
You might also like: