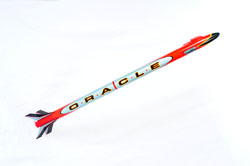 The Estes Oracle Video Rocket predates the recently launched (pun intended) Estes Astrovision by a few years. It was the first motion picture rocket offered by Estes since the Cineroc of the 1970's.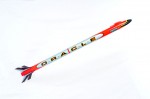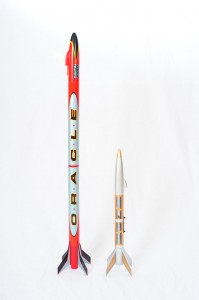 The Oracle is tall, measuring in at about 3 feet tall, and is powered by a "D" sized rocket engine. By contrast, the Astrovision is only 19″ tall and is flown on the smaller "C" sized engine. Here is a photo of the two side by side illustrating the height differences.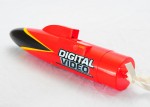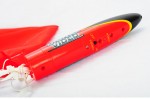 The camera's lens points out the side of the nose cone, and a mirror in an exterior streamlined shroud reflects the lens' view towards the ground. Operating the camera is fairly simple. Prep the rocket for flight and place it on the launch pad. Turn on the camera using the power switch on the side and press the start button. A red light will go on and an audible "beep" will be heard. At this point, the camera is not recording, so you have time to get back to the launch button. The beep will increase in frequency and go to a solid tone, at which point the red light glows green. The camera is now recording, so LAUNCH!
You get about 30 seconds of video, which enough to capture both the ascent and decent stages of the flight; so pretty much the entire flight. The Oracle includes a parachute mount point on the nose of the camera, so you can have the camera pointing down during decent to capture the ground. The normal mounting point at the base of the camera will have the camera pointing up at the parachute during decent.
The Oracle can store only one flight video, so if you intend to fly it more than once AND capture video for each flight, bring a laptop with you to the flight field so you can offload the video using the supplied software and USB cable.
The Astrovision has replaced the now discontinued Oracle in the Estes product catalog, so you collectors had better grab one while they're still available and cheap.

This is a video I took using my Oracle. Just after it launched, we launched an Estes Astrocam, so you can see it's smoke trail in the upper left corner of the video image.
Type:
Auction
Bids:
4
Ends in:
3d 15h 25m
Type:
Auction
Bids:
0
Ends in:
5d 18h 40m
Originally posted 2015-10-18 20:27:57.
You might also like: