This locomotive trio is a long way from home.


The Southern Pacific railroad was looking for more powerful motive power to compete with arch rival railroad Union Pacific. The SP looked across the pond to German locomotive builder Krauss-Maffei and their powerful ML4000 series of locomotives. The SP ended up splitting an order of six KM's with the Denver and Rio Grande railroad and in late 1961, the D&RGW took delivery of three ML4000s



Division Point issued these fine looking brass Krauss-Maffei units in HO scale in 2008.


Detail is superb. The models come equipped for DC operation with factory installed lighting. The real KM's were powerful, with two 16 cylinder Maybach diesel engines each, but were prone to wheel slippage through the mountain trackage of the D&RGW. After three years, the D&RGW gave up on the KM's and sold them to the Southern Pacific railroad. I expect these HO units will fare much better on the mountains of our club layout. They'll get converted to DCC operation with a trio of Loksound v4.0 sound decoders.



Division Point produced only 10 three-item sets that included loco #4001, 4003 and the dynamometer car.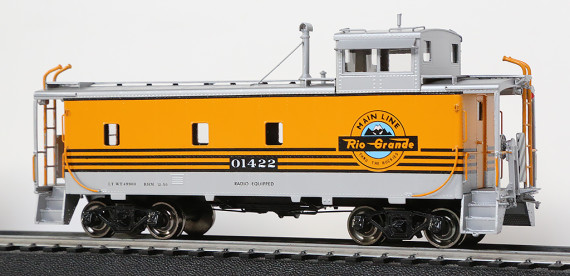 And a nice caboose completes the package. This one is from Overland Models and sports the unique four stripe paint.
All DCC'd up and rarin' to go!

NOTE: to keep the site running smoothly, product data is only refreshed once every 10 minutes, approximately. Click on a product to see the most up-to-date data on the seller's page.
Originally posted 2015-06-23 14:33:51.
You might also like: