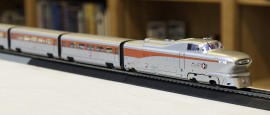 Looking like a car almost as much as it looked like a train, the Aerotrain was an attempt to woo travelers back to the railroads.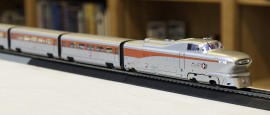 The Con-Cor Aerotrain is an HO (1:87) scale model of the infamous General Motors Aerotrain that saw service starting in the mid-1950's. The one pictured here is the Pennsylvania Railroad model that began service in 1956 and operated between New York City and Pittsburgh.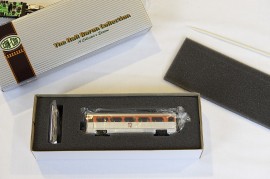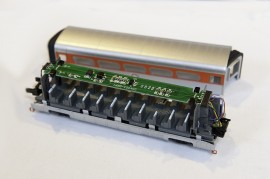 The model comes DCC ready and will work with any standard NMRA DCC decoder. Unfortunately, if you want to add a sound decoder, you'll need a special "DCC-Ready" coach from Con-Cor. The locomotive does not have enough room for a sound decoder and a speaker, so the DCC coach provided room for the decoder speaker and circuit board. Holes molded or drilled into the bottom of the coach allows the sound from the speaker to pass through. Some of the seats were removed to make room for the speaker. I had to remove a few more for the MRC decoder speaker to fit properly.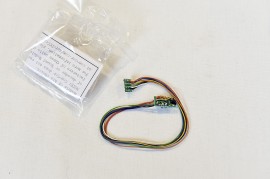 Also included with the special coach is an extension cord so the decoder installed in the coach can connect to the decoder socket in the locomotive.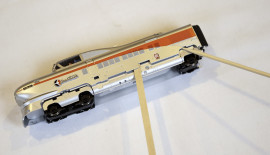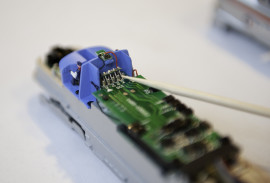 The first step to install the decoder is to remove the body shell from the locomotive. Con-Cor recommends a wooden skewer as anything plastic or metal would mar the surface of the shell. The little notch just above the rear wheel of the loco is a good spot to insert the point of the skewer. I also used a coffee mixing stick to further work the body off of the chassis. Once the shell is off, remove the plug from the decoder socket. This plug allows you to run the loco on DC current if you don't plan to install a decoder and run on DCC.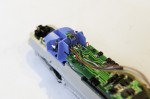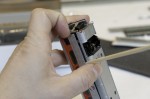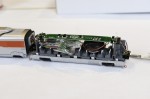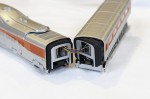 Next I plugged in the male end of the extension cord into the decoder socket and threaded it through the shells of both the loco and the coach. The shell of the coach must be removed and is done so using the same method as the loco. The speaker and decoder circuitry are jammed into the coach seating area…hmmmm, not pretty, but that's how it's done. Time to give it a test run.


After testing the installation, I snapped the train back together. From the side, the decoder components are visible in the coach, but it's not too noticeable through the windows.
Below is a video of the Aerotrain running at our local model railroad club:

Below is an earlier test video of the Aerotrain just after I installed the decoder:


Originally posted 2015-06-05 13:36:35.
You might also like: