Broadway Limited is a relative newcomer to the field of model railroading, getting their start in 2002, but they quickly made their mark by offering high quality HO and N scale model trains. Their offerings set a new standard in technology with on-board digital sound effects that could be operated in both DC and DCC modes.



In more recent years, Broadway Limited has split their product offerings into Paragon2, Blue Line, and Brass Hybrid product lines. This Big Boy model is one of their BlueLine offerings. The BlueLine is a more budget-friendly line of products and provides a high level of detail, on board sound and lighting effects, but omits the DCC decoder that is standard in the Paragon2 and Brass products. Not a big deal, since a decent decoder goes for around $30 USD these days.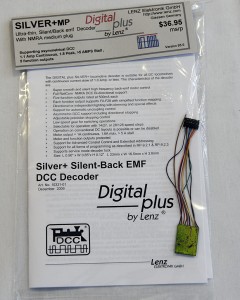 After some research (asking Broadway Limited forum members), I settled on the Lenz Silver +MP decoder with Back EMF. Back EMF allows for ultra-slow running speeds, making for more realistic operation.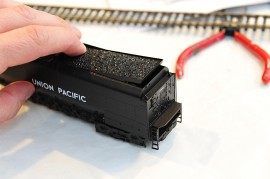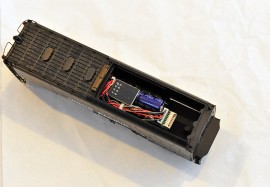 Putting a DCC decoder in the Big Boy was as easy as could be. Simply press on the rear of the "coal" load, and it pops up, allowing the sound board to be exposed. The DCC decoder socket is a standard 8-pin socket, and comes with the jumper board installed to allow DC operation only. This board must be removed to install the decoder.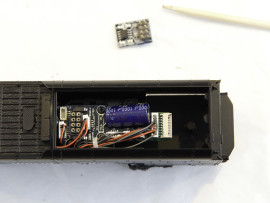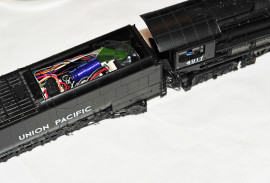 The jumper board is removed and the Lenz decoder is installed. Some decoder circuit boards are wrapped in heat shrink wrap to electrically insulate them from shorting out on the metal superstructure of the locomotive. The Lenz decoder cannot be wrapped this way because it will overheat. Instead, I made a "cradle" out of folded over clear packing tape for the decoder to rest in along side the sound board.
Once the decoder is in place, put the coal load back in place and you're ready to go!
Below is a short test run video:

Originally posted 2013-11-23 07:22:40.
You might also like: