Bachmann released the B&O EM-1 in 2-8-8-2 as their largest HO steam offering to date.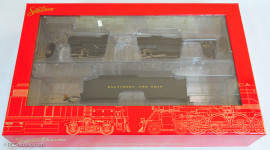 Packaging is the standard "Spectrum" style of packaging. Loco and tender are protected inside plastic rigid inserts.


As you can see, this is a large locomotive. It's boiler and tender are plastic, but the loco is fairly heavy due to weights inside the boiler. This should help the steamer pull a decent sized consist.
Detail is crisp. The prototype was equipped with roller bearings that were so effective that three railroad workers could push the locomotive on level track. It was the last of this wheel arrangement manufactured (1944-45) and was the one of the latest in steam locomotive design. The Baltimore and Ohio railroad used these locos to pull ore and coal trains over the steep grades in West Virginia.
Top view of the loco from two angles. The loco is comes in factory-equipped DCC, or DC (DCC ready) versions.  Mine is the DCC equipped version. There is also an optional plug-in sound module that fits inside the tender (back-ordered as of this posting).
Here is a video of the EM-1 running at our club layout:

Here is an earlier test run of the Bachmann EM-1 (sans the sound module) on my own layout:

NOTE: to keep the site running smoothly, product data is only refreshed once every 10 minutes, approximately. Click on a product to see the most up-to-date data on the seller's page.
Originally posted 2015-04-09 11:01:32.
You might also like: