It's been several months since the Archos 5 Internet Media Tablet came out, but when I want to watch video on the PMP with the best screen available, I still reach for my Cowon Q5W. Why? Color! The Q5W renders colors the way I like them. Nice and warm. Take a look at a comparison photo below: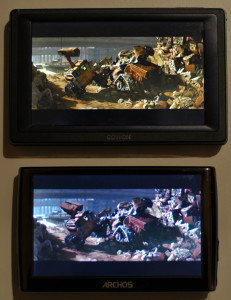 This is a very quick snapshot of roughly the same scene in a popular movie. The scene in the movie takes place in a junkyard in bright sunshine. Notice how the Cowon renders the scene in warm gold tones. The broken down robot center right is all rusty and the Cowon renders in redish brown like it should be. The Archos 5 below the Q5W looks too blue. The scene looks harsh and cold and even slightly washed out. The rust on the robot is almost purple.  Keep in mind that this is a photo of the image. The image looks much better to the naked eye.
Sure the Cowon has plenty of faults in comparison to the Archos. It's more expensive, has less storage space and the interface is clunky. But it makes a nice picture. The image looks better, the battery lasts longer, and the customer support at Cowon is much better.
You might also like: