Walthers Santa Fe "Super Chief" and "El Capitan" named trains are pulled by the "Warbonnet" clad F3 and F7 locomotives.



The full A-B-B-A set of the F3's. They are all sound equipped with the factory installed QSI sound decoders.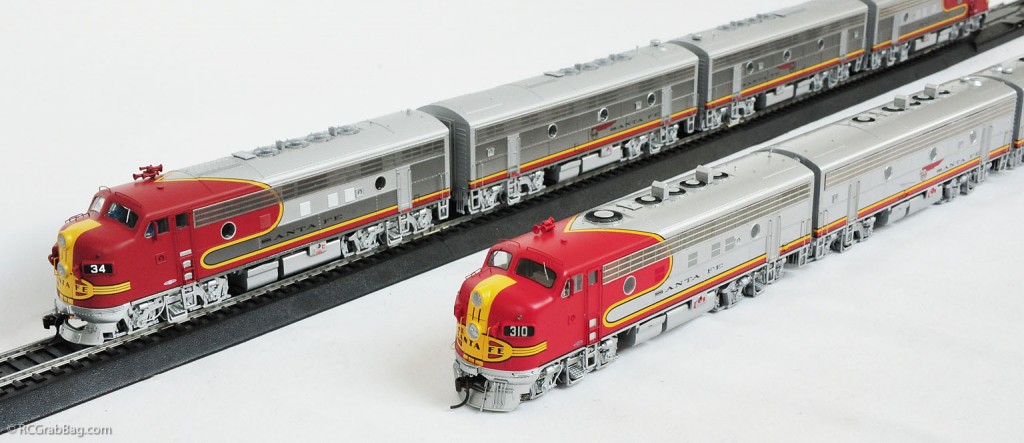 This is a comparison shot of the Proto 2000 F3's from Walthers (left), and the Genesis F7's from Athearn (right). Colors and plating are much more subdued on the Walthers.



Top photo is the Budd 73′ Baggage car. Bottom is the Budd 10-6 Sleeper.



In these two photos I compare the new Walthers Plated Sleeper with the older painted version. You can tell by the way that the two capture the light, that the plated version simulates metal more effectively. Walthers calls this their "Real Metal" finish, so it's some sort of plating method that goes beyond just silver paint.


I use this busy background to once again illustrate the difference in reflectivity of the Walthers vs. Athearn plating. On the left is the Walthers, on the right is the Athearn. Notice how much more clearly the surface pattern is reflected in the Athearn plating.


This is an older photo I took when I was starting to receive the plated cars. It shows the new Walthers cars being pulled by an A-B-B-A set of the Athearn Genesis F7 locos. I hope to be providing updated photos and video of the entire consist over at our club layout later this week.
Video of the Super Chief at the club:


Originally posted 2014-09-04 23:32:30.
You might also like: