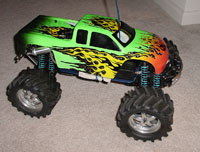 For a short time, OS made a .40 four stroke motor specifically for land vehicles (as opposed to airplanes). It came with a pull starter and inadequate cooling, but boy was it cool.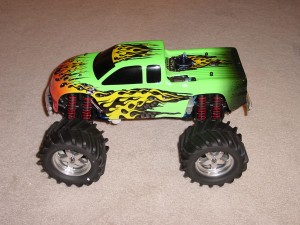 The recipe seemed pretty simple at first: Take a brand new T-Maxx like the one pictured above, a special .40 four stroke extended chassis kit from New Era Models (still available here), one OS .40 four stroke buggy motor (sorry, no longer available), and hours of tweaking, twiddling, fussing and cussing, and at the end of it all, one seriously cool ride.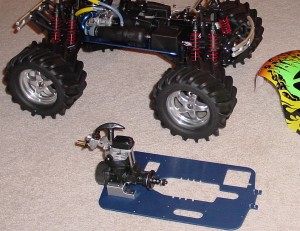 Pictured here is the New Era chassis with .40 mounted. Notice the buggy version of the .40 had a pull start and black engine block. The aircraft version of the .40 was all silver with no pull start (that's what the propeller was for).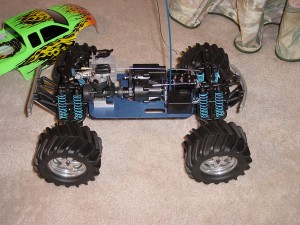 All mounting holes in the chassis were pre-drilled, so it was a fairly simple matter of transferring all of the drivetrain and suspension components over to the new chassis.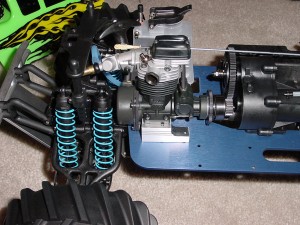 Close up of engine mounted shows a fairly straightforward setup. In lieu of a propeller, the .40 buggy motor likes a heavy flywheel to smooth out the idle. Pictured is a heavy Kysosho aluminum flywheel. This was later upgraded to a heavier custom-machined stainless steel unit. The flywheel was just one of the many "tweaks" needed for reliable running.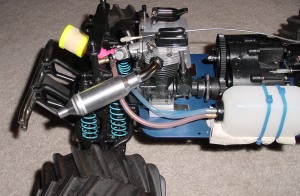 The exhaust used is from a OS .91 airplane motor. A larger exhaust is needed because the .40 buggy motor has a much higher RPM ceiling than the airplane motor (20K vs. 12K RPM), so it's moving larger amounts of air when running in the upper RPM range. A .40-sized airplane exhaust is too constricting for the .40 buggy motor and will lead to power loss and overheating. The stock fuel tank was replaced with an airplane unit and mounted on rubber foam. The .40 vibrates tremendously and instantly turns fuel into foam with the stock fuel tank.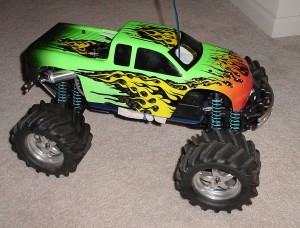 With the body mounted, the extended chassis is made obvious.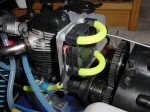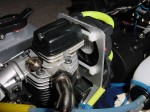 Cooling was another major issue. Sitting on front of a model airplane moving at 100mph, the .40 has no problem staying cool. But under a lexan truck body, on a vehicle moving no more than 20-30mph, the .40 rapidly overheated. The stock finned cylinder head wasn't much help in this situation, so something need to be done to augment engine cooling. Pictured above is the first attempt. It's a small electric cooling fan that's normally used to cool down computers or other electronic devices. Shown here on a custom-fabricated aluminum mount, this setup was not very effective. It didn't move enough air, it was a fragile assembly, and it required it's own battery pack. Something better was needed.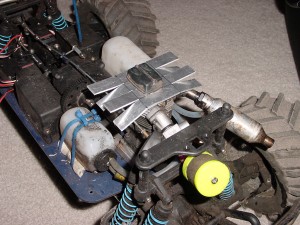 This solution was actually pretty effective. It's basically a sheet of aluminum cut to form cooling "fins". It is mounted between the valve cover and the cylinder head with a hole cut out to give the valve train components clearance. Despite a seemingly small mount of contact with the top of the cylinder head, this setup worked well. There is more contact area than you might think. The only problem with this setup was that the aluminum was not a very tough grade, so it cracked after a short amount of use. I'm sure with a better grade of aluminum, one that could take some heat and physical shock, this setup would work well.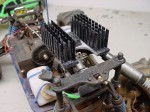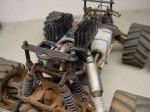 The ultimate solution is pictured above. This is a large heat sink typically used for computer CPU cooling. It's a thick, tough grade of aluminum that can take a beating. I had it milled down the middle with a machinists lathe to allow it to be mounted and cut out half-circle in the rear for access to the glow plug.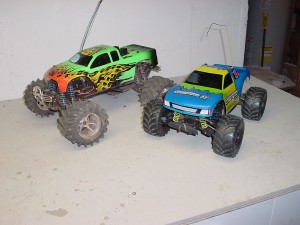 Duratrax used to make a 4WD vehicle called the Overdrive ST. Shortly after I modified the T-Maxx with a .40 four stroke, I set to work on modifying the Overdrive with a .26 four-stroke. The .26 four-stroke buggy motor was similar to the .40 in that it had a pull start and black engine block. It also shared the same cooling problems and need for a heavy flywheel as its big brother.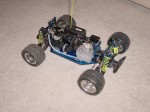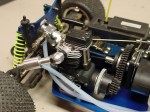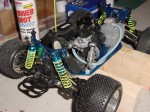 Unlike the T-Maxx, the Overdrive ST did not require an extended chassis. The .26 dropped right in. I used the exhaust from a Saito .40 airplane motor. Even though it was made for a larger motor, it still needed to be drilled out to allow for more airflow.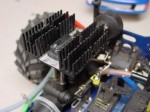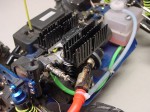 With the experienced gained in cooling solutions on the T-Maxx, I used a similar setup on the Overdrive.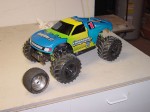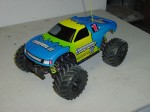 The four-strokes rev at lower RPM's than their 2-stroke siblings, but they make a lot more torque. So, higher gearing is needed. This can be accomplished by either changing the pinion/spur gear combination as I did in the T-Maxx, or, use larger tires as shown here on the Overdrive.
You didn't think I was going to show you all that and NOT include a video, did you?

Originally posted 2015-01-27 06:45:52.
You might also like: