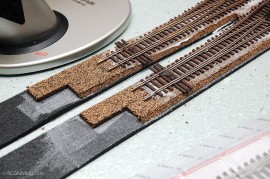 There are many methods for tracklaying on your layout. Here's what I did and why.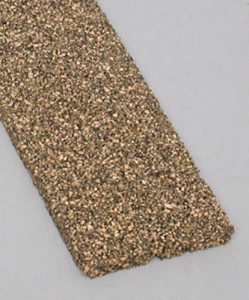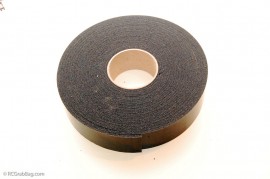 Most are familiar with cork roadbed (left), available from several manufacturers. It is probably the most popular roadbed material in use. While it has decent sound insulating properties, you may want to supplement the cork with a layer of "camper" tape (right). Camper tape is a foam material of varying widths and thicknesses, and is used when installing a camper top on the bed of a pickup truck. The tape forms a protective layer between the contact points between the pickup truck bed and the camper.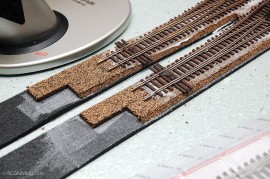 For my layout, I used 2-inch wide tape, approximately 1/4 inch in thickness. It provides a base that is perfectly wide enough for the cork roadbed.
An article in Model Railroader's "How To Build Realistic Reliable Track" focused on creating the most sound-absorbing roadbed. The combination of cork roadbed and camper tape came out on top when compared with other materials and methods.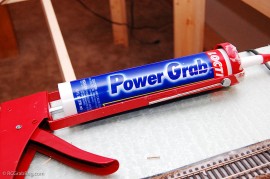 For gluing the various layers of track, cork and camper tape, I really like Loctite's "Power Grab" caulk adhesive. It's got a very high tack which keeps track and roadbed in place without any clamping, even on curves. It's also water based for easy cleanup. Use a putty knife to spread a thin layer on your platform, tape and cork. It grabs immediately, and develops good strength in a couple of hours. Unfortunately, it doesn't dry clear as some other adhesives do, but since you'll eventually be covering all of the roadbed material with ballast, this doesn't present a problem.
You might also like: