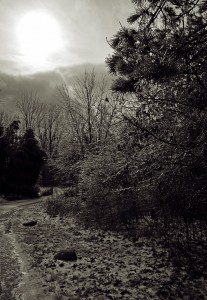 At temperatures are climbing and remaining steady above 70°F (21°C) here in the Northeast, USA, I'm reminded that not too long ago I couldn't go outside without a coat.
This is a random photo I pulled from my collection from December, 2008. Taken with my Nikon D700 and plastic-fantastic Nikon 28-200mm f/3.5-5.6 AF-G at 1/250, f/16, ISO 200. If you don't have one of these lenses for your Nikon FX or 35mm camera, get one – lightweight, sharp, resistant to ghosting is great (this was shot straight into the sun) and covers a broad focal length range.
Nikon doesn't make them anymore, but they can still be had on the used market, like ebay. Either the G version or the D version is great, although the G version is a lighter, but no aperture ring for older Nikon cameras. There is a good deal of distortion for this lens, but that's typical of a lens with such a broad focal range.
You might also like: