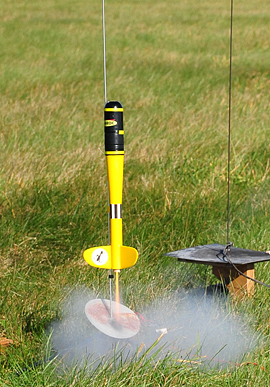 It was a beautiful fall day here this past Friday – sunny and a tad chilly at 50'F – great for flying my refurbished vintage Camroc and newly-built Camroc Carrier clone model rocket. Armed with a half-dozen film disks and Estes C6-5 engines, I was looking forward to a visit into model rocketry's past. The wind was a touch high today, but the sun was shining bright, we had a very large field over in Ivyland, PA, and my friends, Scott and Justin, were also there to launch some of Scott's rockets. I had only brought my Camroc and I expected that to occupy my time fully with launch prep, launching, recovery and reloading with film. Film reloading is an interesting chore, and  has to be done in total darkness. The only way to do this at the flight field is in a light-tight film changing bag. The changing bag is black, light-proof treated fabric bag with two holes to insert  your arms through and perform the film changing.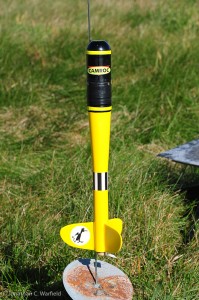 I spent the better part of the week finishing the Camroc Carrier, built from a collection of reproduction parts from Semroc rocketry, and while it was indeed a rush job to get it ready for launch day, it still turned out presentably.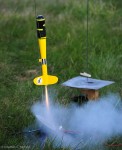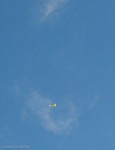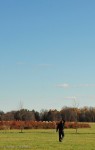 I launched the Camroc seven times, and all seven launches were successful. I was feeling pretty good at the end of the day!
Unfortunately, that's were the good feelings ended. Later on that night, I processed the film and was disappointed to find that no usable images were captured. Here is a sample of four of the negatives: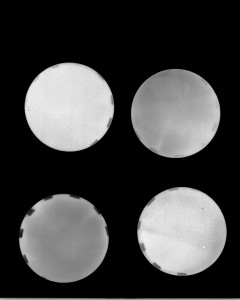 All of them are over-exposed. It seems as though there was some light leakage somewhere, either in the Camroc, or the light changing bag or both. It could also be that the shutter is not closing quickly enough. When I took test photos about two months ago, the tests were fairly controlled in that the film was loaded inside the house in dark storage room in the basement, and the rocket didn't spend more than a few minutes outdoors while I took the shots.
So, it's back to the drawing board to do some more tests to look for light leakage and/or a malfunctioning shutter. That is all for now. Fooey.
Note: All of this content has also been added to my original Camroc article.
You might also like: