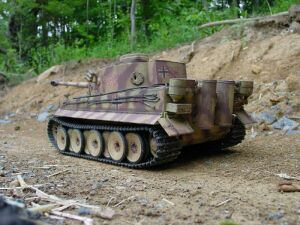 The Tamiya Tiger was the first of the Full Option R/C Tank kits to roll onto the scene in 2001.



Tamiya's packaging is a work of art, both inside an out. And as with most good art, it's expensive.



Chassis work begins first with installation of suspension and drive units. Torsion bar suspension mimics the real thing.



Wheels go together. Tigers had a complicated interleaved wheel system to support the massive weight of the vehicle.


Tracks come pre-assembled and tension is easily adjusted by screws accessible from the bottom of the tank.


Multifunction controllers and speaker box spread out for testing.


Going for a desert scheme, the tank is painted an overall dark yellow. Red brown camouflage to be added.




Complete pics. The battle system is on its way. Ready to duke it out with the Pershing or Sherman.

Test run of the Tiger 1
Originally posted 2015-08-07 17:11:04.
You might also like: