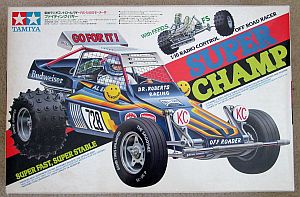 The Super Champ was an update to the SRB (Special Racing Buggy) chassis and was the last of Tamiya's 'heavy metal' buggies. After the Super Champ, plastic would reign supreme as the structural material of choice for Tamiya's off-road buggies.





The Super Champ had the SRB front suspension from the Rough Rider and Sand Scorcher, but it had a new rear suspension, dubbed the Free Floating Progressive Dampening System, or FFPDS.



Box art illustrates the suspension similarties and differences between the Super Champ and the SRB's.




Box contents show Tamiya's typical packaging style of the day. Lots of neatly arranged blister packs proudly displaying all that metal.



Inner boxes have additional parts, decals and manual.




Chassis close-ups illustrate the assembled suspension pieces.

Vintage Tamiya Super Champ video here.
Originally posted 2015-04-15 11:13:09.
You might also like: