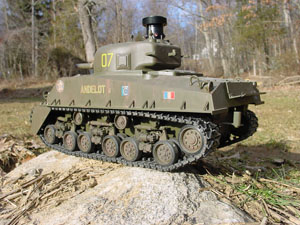 The Tamiya Sherman is the runt of the RC tank offerings by Tamiya.It is still 1/16 scale as the others, but as in the real world, the Sherman was a light tank, and a bit dwarfed by its competitors.



Packaging is typical for Tamiya tanks; a feast for the eyes.


Assembly begins with the chassis. It is stamped metal and provides a sturdy mount for the suspension pieces.



The suspension bogey mimics the real thing. A spring in the piston just above the wheels allows both wheels to compress over a bump. The entire assembly attaches to a central pivot point allowing it to "rock" over a bump.


The drive units installed. There are two separate units to drive the left and right sides independently.


Wheels and tracks are mounted.



The multi-function units provide control over the tank's driving functions, and for the various special sound/action effects. These, along with a large speaker box, are placed inside the lower hull.



The turret rotation mechanism are installed in the upper hull. The gun elevation mechanism is installed in the turret.


Fold in ingredients, bake at 350 degrees and voila, one Sherman tank ready to roll. A little frosting in the form of weathering and the Tamiya battle system (the black tophat on top of the turret), and we're ready for combat.

Short video of the Sherman on a test run.
Originally posted 2015-04-27 11:53:16.
You might also like: