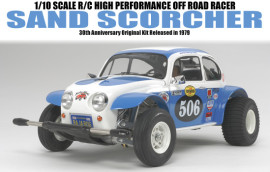 It's official folks, the infamous Tamiya Sand Scorcher is being re-released in 2010.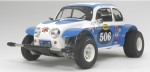 On the heels of the re-issued Rough Rider (aka Buggy Champ), Tamiya puts and end to all of the tireless rumors and debates about a Sand Scorcher re-re. The new Scorcher shares parts from the slightly redesigned Buggy Champ, ensuring a steady stream of spare parts for some time to come. The new Sand Scorcher has some subtle but important differences from the original. For instance, purists will note that the body appears to be a reworking of the Blitzer Beetle, and not an original Sand Scorcher shell. There is also some debate over the door handles, license plates and rear signal lenses. It is suspected that the door handles are molded in, the license plates are decals (instead of raised molded lettering), and the rear signal lenses are opaque ala the Blitzer Beetle. It will also most certainly come with an electronic speed controller.
Packaging will be similar to the original SRB and new Buggy Champ with lots of neatly arranged blister shells to hold all of those shiny metal parts.
Photos from the Tamiya Fair 2009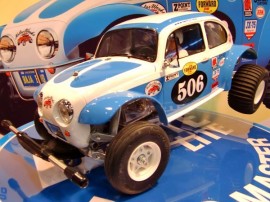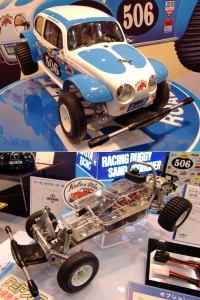 Specs from the TamiyaUSA website read:
"This is an Officially Licensed 1/10 scale R/C assembly kit of the Sand Scorcher.

Comes equipped with full ball bearings to reduce friction loss.

Type 540 motor included.

Comes loaded with many top quality parts for improved performance such as:

A duraluminum plate reinforced 2mm thick FRP main frame for added strength and flexibility to ensure stability.
Newly designed die-cast front and rear suspension arms, front axle, and wheel hubs.
Transparent case protects the R/C mechanisms. The lid can be easily detached by cam locks.
Reinforced front uprights.
Redesigned oil dampers.

Original blister pack style packaging.

Detailed hard plastic body included.

2-channel R/C system and battery pack separately available.

Can be used with separately available LF1100-6.6V Racing Pack (Item 55105).

ESC Included"
In any case, I can't wait to examine one of these up close, and I'm sure that even with the differences, it will still rekindle the magic of yesteryear.
Go Tamiya!
Official Tamiya Sand Scorcher announcement here.
You might also like: