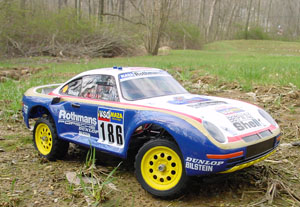 Like its full scale counterpart, the Tamiya 959 was meant to be a technological showpiece.




Tamiya started with a "clean slate" with this kit, incorporating no parts from previous kits. The lexan body was formed with a non-traditional "blow-molding" method, instead of the usual vacuum forming. Blow molding used higher pressures that ensured that the lexan conformed to all the nooks and crannies of the mold. This provided for unparalleled detail in a lexan body. Bodies for this kit are notoriously fragile. New ones fetch high prices.


Close-up of chassis reveals interesting components and illustrates some of the challenges Tamiya engineers faced. The car was engineered in 1/12 scale which makes it a bit smaller than the more common 1/10 scale, so space was at a premium. Despite this, Tamiya was able to incorporate shaft-driven 4wd. Electronic speed controls were not the norm back then so Tamiya had to make room for two servos (steering and throttle). To accomplish this, the motor was placed longitudinally in the middle of the chassis. Tamiya also provided their top-of-the-line RX540VZ Technigold motor as well as full ball bearings in the kit.



Close-up of mechanical three-step forward/reverse speed control and Technigold motor. Chassis brace could be flipped up for easy motor access



Close-up of suspension components. Front shocks are coil-over, rear shocks are set at an angle and the coil springs are separate items. Beefy steering components are necessary for rally cars.
Originally posted 2014-07-27 21:44:30.
You might also like: