It ain't cheap, but it's got everything you need…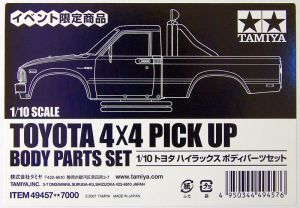 Tamiya is planning a "re-release" of the classic Mountaineer. I put quotes around "re-release" because it's being released on the modern F-350 chassis instead of the original all metal chassis. In any case, Tamiya is also producing a limited run of this Mountaineer Body Parts kit. If you are doing a resto, you can't beat a box of shiny new factory-original body parts, instead of my crappy repros(ok, I really don't think they're crappy, I think they're pretty good, especially my repro lenses!) or some beat-up used and overpriced originals. I should warn you, this re-issue isn't exactly cheap either, but I'm pretty sure if you tried to source all of the original parts, you'd spend a lot more cash to make a complete body kit.


It's all here: Main body pieces, glass and headlight/signal lenses, chrome bits, decals, and all the necessary fasteners.
You might also like: