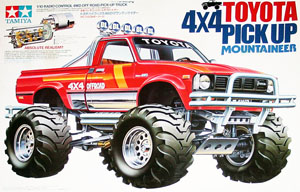 After the Bruiser faded away in the 1980's, Tamiya resurrected the all metal, three-speed concept with the Mountaineer.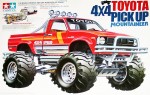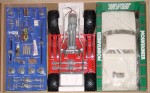 The Mountaineer is essentially the same truck as the Bruiser.  The major differences are the lack of "sleeper" cab on the Mountaineer body and usage of a standard 7.2v "stick pack" battery as opposed to the giant 6v 4000mah battery of the Bruiser.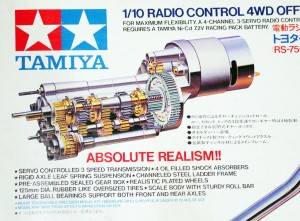 The Mountaineer used the same transmission as in the Bruiser.  All metal gearing (except for the spur gear) in a metal housing.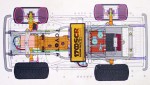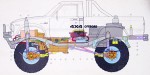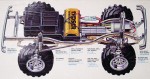 Box art illustrates the Mountaineers major components.  Notice the stick pack battery.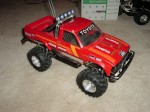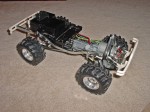 Here's a well-used Mountaineer assembled and painted fairly close to box stock.  Without the body, the chassis components are visible.  Lots of metal there and it is heavy.  Almost 12 pounds!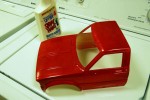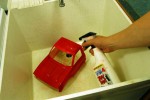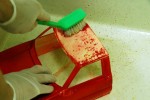 I had a poorly painted body that I chose to do a restoration.  I used a product called Motsenbockers Lift Off Spray Paint and Graffiti remover.  Smells suspiciously like oven cleaner, but works great, dissolving paint in a few minutes and not harming the plastic.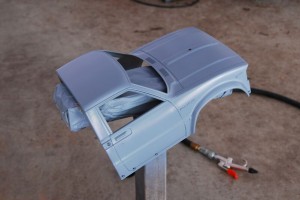 A shot of gray primer to will reveal any imperfections in the body prior to applying the Mica Red metallic paint.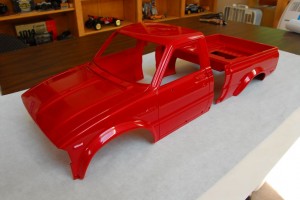 After a trip to the body shop, the body is painted with Tamiya's Mica Red paint and clear coated to give it that extra shine. Next comes a good polishing to really smooth it out and give it that mirror finish!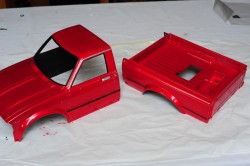 Some time later (too much time) I'm getting around to painting the trim. I mask off areas as much as possible, because I'm terrible with a brush.
Originally posted 2015-09-03 18:42:21.
You might also like: