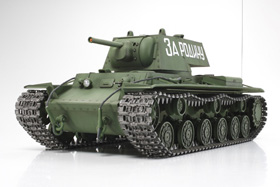 I'm glad Tamiya is finally issuing a Russian tank in their Full Option line of R/C tanks, but I gotta ask…
Why this one? How about the vastly more familiar and famous T-34?  Oh well, beggars can't be choosers. Maybe they figured they needed a heavy Russian tank that would fare better against the heavy King Tiger.
Video of the KV-1 in action. More info at TamiyaUSA.com.
You might also like: