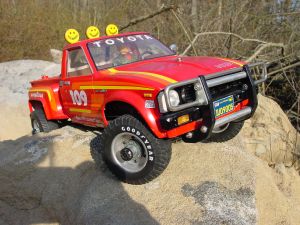 In 1981, Tamiya releases the first if its legendary three speeds. The rest is history.




Taking complexity in an R/C vehicle to a new level, the Hilux was equipped with Tamiya's first three-speed, radio-shiftable transmission. In keeping with the manufacturing traditions of the day, most of this trucks chassis and running gear are metal.


This view shows what's going on underneath. The clear mechanism box housed the radio and servos and provided a high degree of water resistance. The black box with the silver top in the middle left of the chassis is a transistorized speed controller (an early electronic speed control). Its cousin, the Blazing Blazer, had a mechanical speed control. Up front is the RS-540 motor coupled to the three speed transmission. All these parts were supported by a metal ladder frame very similar to the real thing.



Close up of electronic speed controller. A transistorized unit that did away with the resistor coil in most mechanical speed controllers of the day, this was state of the art back in 1981! The other photo is a comparison with a Blazing Blazer. The Blazer's mechanical speed controller is in the mechanism box.


The underside reveals the realism afforded by the Hilux. The transmission and transfer case can be seen with drive shafts extending to front and rear differentials. These are not limited slip differentials. The axles are one-piece solid units so turning can be a bit hairy on pavement. The front hubs can be "unlocked" to allow free wheeling on dry pavement, just like the real thing.



Unlike the Blazing Blazer, the Hilux came equipped with oil-filled shocks like those found on the Rough Rider or Sand Scorcher. The extreme angle of the rear shocks cast doubts on their effectiveness, but they sure look cool! The front shocks are set at a more useable angle.

 Classic Tamiya Videos of the Hilux and Blazing Blazer here
Originally posted 2014-10-26 02:02:07.
You might also like: