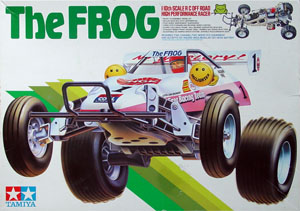 The Tamiya Frog was one of Tamiya's early plastic buggies that marked the end of the "heavy metal" era of off-road RC vehicles.



The Frog also made a departure from the hard plastic bodies of their other off-roaders, like the Rough Rider and the Sand Scorcher, and instead used a vacuum-formed polycarbonate body.





Box are illustrates a rather unusual chassis design that eventually made its way into a number of other kits. Other box photos highlight components, features and layout of the Frog.



This is an original Frog built from new parts. Tamiya has since re-released the Frog and it is a faithful reproduction of the original. The re-released version has a more effecient electronic speed controller instead of the original Frog's mechanical unit.




Close-ups of some of the chassis detail highlight the unusual cantelever rear independent suspension and robust front suspension. Mechanical speed controller is standard Tamiya fare as is the silver can RS540 motor.
You might also like: