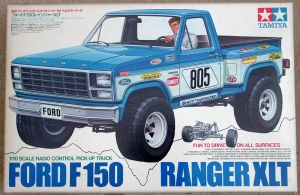 This was an unusual combination of the Sand Scorcher/Rough Rider buggy chassis with a pickup truck body.


The Ranger was also the last vehicle Tamiya made to utilize this chassis in the original form (the Super Champ continued with most of the original chassis, but a newly designed rear suspension). Front and rear tires on the Ranger are the same as the rear tires on the Rough Rider.


The inside of the box reveals the typical SRB components. Metal of course.






Box artwork showing the innards.


Manual, bumpers, radio box, decals, manual and wheels.



These are two Rangers that I picked up. The one on the right is very used and needs a lot of TLC to bring it back to its former glory, so it gets thrown into the restoration queue.ÔøΩ


Vintage Tamiya Ranger Video (and others) here.
Originally posted 2015-09-09 18:59:12.
You might also like: