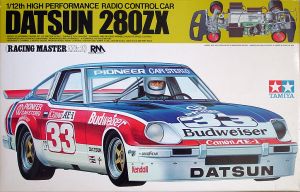 The Datsun 280ZX was the second offering in the Racing Master series from Tamiya.




The Datsun was more of an entry level Racing Master vehicle. In an effort to reduce cost for the first time buyer, the Datsun did not come with some of the more advanced features of the Can-Am Lola, such as the Tamiy "Black" motor, differential, ball bearings, or "high-efficiency" microswitch mechanical speed controller.


Chassis schematic.


Box contents. Notice the plain vanilla silver can 540 motor. The Lola came with the high performance "Black" motor.




Miscellaneous items of interest. From left to right: Manual, decals and catalog, fiberglass chassis.




This is a new-built Datsun 280ZX. This one was upgraded with ball bearings and the metal differential. The body is used, but in OK shape. A spare has been purchased for restoration.

Vintage Tamiya Datsun promotional video here.
Originally posted 2015-05-21 12:53:05.
You might also like: