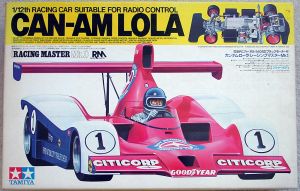 RM stands for Racing Master. Mk. 1 being the first in the line of Tamiya's Racing Master kits.

Tamiya egineered the Can-Am Lola as a serious competitive 1/12 scale RC race car. The car introduced many "firsts" for Tamiya.

The Can-Am Lola was the first kit to introduce the famous Tamiya Black Motor. This was considered a high performance upgrade to their standard 540 motor.

The Can-Am Lola was also the first to provide infinitely variable front suspension geometry. It was also the first to offer a ball-raced differential. The differential was all metal (i.e. heavy).

More box art shows details of the mechanical speed controller and differential.





A peek inside the box reveals Tamiya typical packaging of their early era: Blister packs and neatly arranged an labeled parts.

Fiberglass chassis is a work of art. Beveled holes are for flush mounted screws. Body is clear polycarbonate. Decals are adhesive backed.

This was a Lola I built up from a kit. The picture on the right is of the Lola chassis (on the left), next to a new-built Datsun 280ZX RM Mk. 2.


Vintage Tamiya Can-Am Lola promotional video here.

NOTE: to keep the site running smoothly, product data is only refreshed once every 10 minutes, approximately. Click on a product to see the most up-to-date data on the seller's page.
Originally posted 2015-10-15 20:20:23.
You might also like: