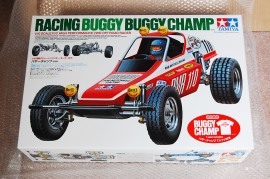 Ya know, there are few things in life that can compare to moments like these.
OK, maybe not for most normal people, but for closet propeller-heads like myself, moments like these are rare.  I've managed to teleport, time travel, what have you, back to 1981, when I got my original Rough Rider.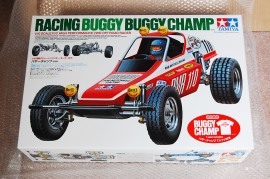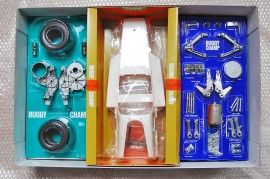 The best part is, the trip was cheap! How did I manage to do this? Well, if you're a vintage RC collector like myself, and haven't been living under a rock over the past few months, you know that Tamiya has re-released a classic RC kit from the late 70's-The Rough Rider. It's been re-branded as the Buggy Champ, but all of the wonder, charm and nostalgic feel of the original is there.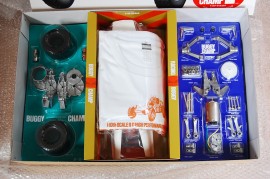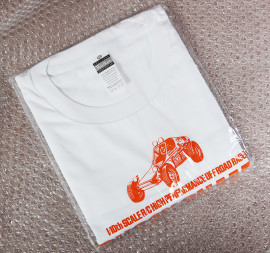 Propeller heads are usually seen wearing dorky t-shirts, so Tamiya obliged a bit of wardrobe too. Personally, I think it's cool, but you probably already new that.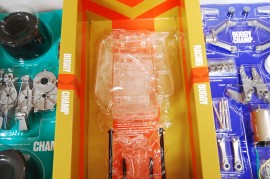 Delving into the box, beautifully re-created to look like the original, one is treated to brand new parts, like this clear radio box and bumper. Until now, one would have to spend a small fortune on ebay to purchase an original, and not nearly in as good condition.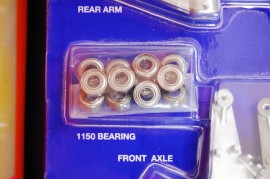 Improvements are welcome, but they must not detract from the characteristics of the original. Tamiya was careful to temper the inclusion of these improvements so they weren't at the expense of the nostalgic experience.  Sure, the Rough Rider was heavy, and handled worse than a baseball skipping across a field of rocks, but dammit, we STILL want bad handling AND weight if we're gonna get a re-release.  And that goes for the Sand Scorcher, too! As for some of the specific improvements to the re-release, the Buggy Champ gets ball bearings (instead of brass bushings), steel u-joints (instead of the quickly-wearing brass), and an electronic speed controller (instead of the hot-running, inefficient mechanical unit), among a few other things, I'm sure.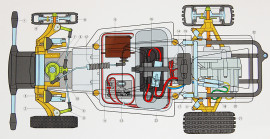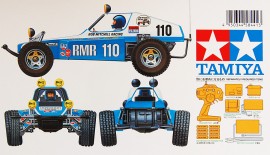 Here's some of the box artwork. Looks identical to the original, except for some tweaks in regards to decals, battery and radio gear.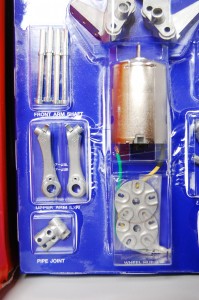 There is SOME bad news. On the two that I've purchased, it appears some of the blister packaging is defective. Visible in this photo, and some of the other interior photos, the packaging is distorted and has pulled away from the blue cardboard backing, exposing some of the white underneath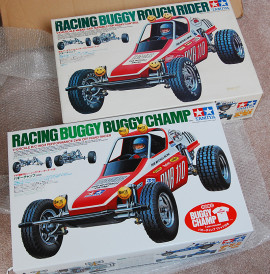 Lastly, here's a simple comparison between an original boxed Rough Rider and the Buggy Champ packaging. Scary similar!
So don't delay! Get yours today!
Originally posted 2014-09-01 23:28:07.
You might also like: