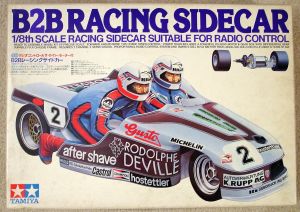 One of Tamiya's more unusual offerings. They were the only company I know of that modeled an RC racing sidecar.When I started collecting, I hadn't considered this one, but after seeing it on ebay for a low buy-it-now price, I thought, what the heck. It's kind of grown on me. Its uncommon for one, its vintage, and at 1/8th scale, its fairly large.



The first thing that grabbed me when I opened the box was the large shell body. It's big at 1/8 scale, although it is a small vehicle in real life. The 1/8 scale driver figures make the model seem that much bigger. The chassis parts are typical early Tamiya. A lot of stamped metal and fiberglass parts.




The usual Tamiya box artwork graces the side panels. There are several versions of engineering artwork showing the overall layout of the chassis, steering, drive and radio components. Although I think these photos are missing a wheel!


Manual, decals, parts list and catalog. It would be nice if you could still actually order the parts on the parts list! Oh well, there's always ebay. Note how large some of the decals are. With spares hard to come by, I always make a high resolution scan of the decal sheets if I ever need to print dupes. Its expensive to do, but when originals can't be found, its at least an option that one could pursue.



Close up of manual and decals. Its the long, brown "Rodolphe DeVille" decal that's got me scared. A good technique I learned for putting on large decals is to cut a small sliver of decal backing off the center of the decal and use the exposed adhesive to position the decal. When you have it positioned just right, pull the rest of the backing offÔøΩ


Vintage B2B Video (and others) here.
Originally posted 2015-08-04 17:00:46.
You might also like: