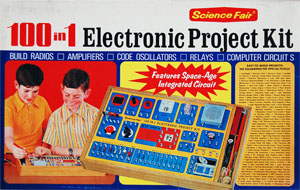 After our parents got tired of us kids taking apart perfectly good radios to see what was inside, junior mad scientists like me got to test our evil genius on Tandy's Science Fair Electronic Project Kits.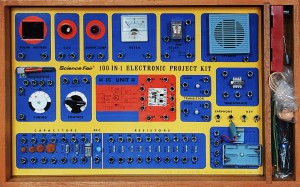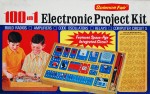 These kits were sold at Radio Shack and came in many shapes and sizes; anywhere from 10-in-1 all the way up to 300-in-1 and more. My first was the 100-in-1 given to me by my aunt one Christmas. The kit had an ingenious system of "solderless connectors", in the form of metal springs, to connect the various electrical components together. Pre-cut, color-coded wire was included in the kit.  Along with your plethora of transistors and resistors, the kit also had a small solar cell, cds "electric eye", relay, meter, and speaker.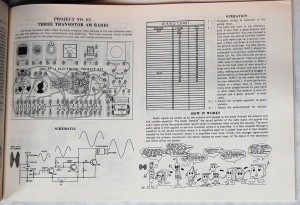 The kit included a giant instruction booklet with a different project on each page. Each project page provided a description of the project, an explanation of how it worked, a wiring diagram and table to connect the various components together, a schematic, and assorted cartoon "spokespeople" to bring it all together. All in all a very clever way to teach electronics. I built many of the projects, including radios, AM transmitters, electric eye and solar projects.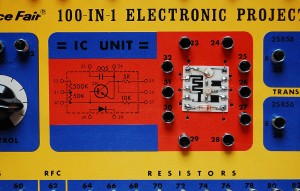 The centerpiece for the 100-in-1 kit that I had was the "Space-Age Integrated Circuit" as described on the box cover. Hardly space-age by today's standards, this 60's piece of silicon wonderment contained a transistor, diode, and few resistors.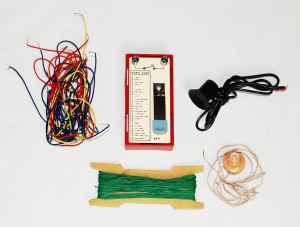 Clockwise from left to right are the color-coded wires, telegraph key, magnetic pickup (great for tapping phones), crystal earphone, and 50 feet of antenna wire.
Updated Feb 16, 2009: Due to popular demand, I have been working on getting the manual in PDF form to make available for download. So far I have a few projects from the manual scanned. You can download the PDF here. Check back as I will be adding more over time.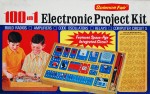 Click image to download manual.
You might also like: