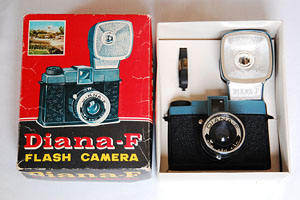 In the age of digital megapixel automated instantaneous gratification, it's nice to know you can still go back to simpler times where it all began.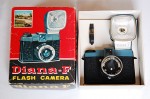 The Diana-F was a super-cheapie all-plastic photographic wonder that appeared somewhere in the early 1960's. Even the lens was plastic.  The camera used 120 roll film and was highly successful, spawning countless numbers of multicolored clones under different names, but essentially the same construction. Many of these were given out as promotional items for selling other things or special events. Photographs from these plastic marvels had a large amount of vignetting (darkness around the edges), a high degree of softness around the edges, and overall image softness. It is precisely these characteristics that have initiated a sort of comeback for these cameras as artistic devices. The photographs have a dreamy, surreal quality to them that makes them ideal for artsy looking photographs, so long as the photographer has the eye for it.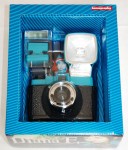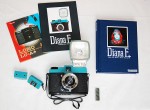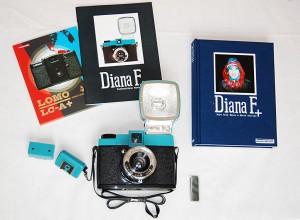 Hey, guess what? There is a modern version of the Diana-F available today! It is called the Diana-F+ and is being manufactured in Europe. It is a faithful reproduction of the original, with a few slick new features added. The manufacturers wanted to make sure that all the "qualities" of the original Diana-F were carried over to the F+, so the camera retains its all-plastic construction, the same colors, and dimensions as the original.  New features include an electronic flash designed to look like the original flash bulb model. The camera also has a pinhole function along with a removable lens for using as a pinhole camera.  The new kit comes with a really nice hardback book of Diana-F+ photographs and bits of trivia.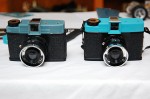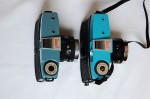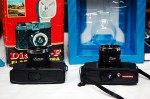 Comparison to the original illustrate just how much effort and care was put into faithfully reproducing the original. The original is on the left in each photograph. Note the tripod mount on the bottom of the new version.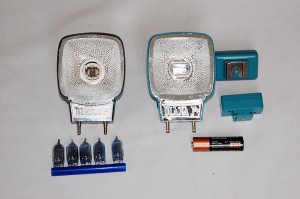 Comparison of the old flash (on the left) and the new. The new version is similar in appearance only. It uses a modern strobe light instead of the flash bulbs (bottom left).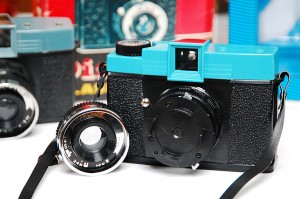 This is the new version with its lens removed and the aperture set for the pinhole function.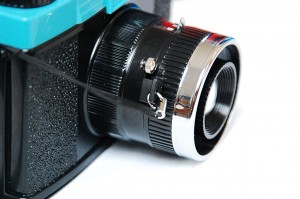 The new version comes with a shutter stop insert to keep the shutter depressed during time exposures, or, in the configuration above, to prevent accidental exposure. There is no protection against multiple exposures on the same frame of film. This is actually a nice feature and can be used for special effects.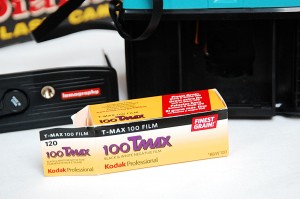 Of course you can still buy 120 film today. I got this roll of Kodak black-and-white film in a Ritz camera store, but you can order online as well. I have already taken a few photographs and will post them after I process and scan them.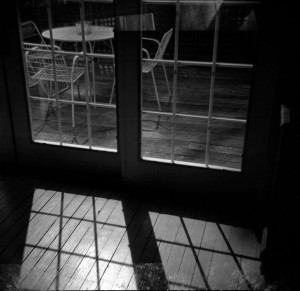 Have a look at some photos from the Diana-F+
You might also like: