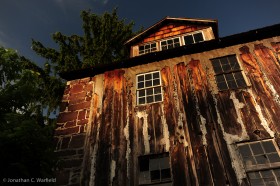 I'm pretty lazy sometimes when it comes to photography. Sometimes I forget that objects worthy of photographing are everywhere; not just in exotic places far from home.
I'm not saying this is a great photograph with mass appeal to everyone, but I love the colors and the texture in the aged wood that seems to say, "I've been here a while, and I'm gonna be here a while." This was shot late in the afternoon today with the sun partially blocked by some distant trees behind me, which put the light right on the points of interest in the photo. And to top it off, this was only about a mile from my home! 
Tech details: Nikon D700
, Nikon 17-35mm f/2.8D AF-S
 @ 35mm, f/6.3, 1/160 sec, ISO 200, White Balance-Shade, -1.3 Exposure Compensation, Filter-Warming Polarizer
.
You might also like: