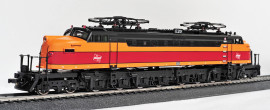 Nearly a year after it was announced, the MTH Little Joe in HO scale finally hit the store shelves. I took delivery of this version clad in The Milwaukee Road passenger colors, cab number E20.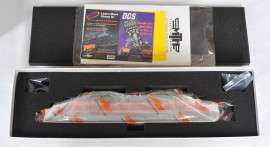 As with most higher-end model train manufacturers these days, the locomotive comes packed in a sturdy box with plenty of foam padding for protection.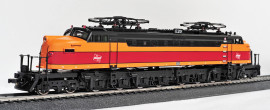 The Little Joe was an electric locomotive originally destined for the Russian Trans-Siberian railroad in 1948, but as US/Russian relations froze over during the Cold War, the delivery of the Little Joes was cancelled. They ended up on various US railroads (Milwaukee, Chicago, South Shore and South Bend), in both passenger and freight service. Five were also purchased by the Paulista Railroad in Brazil. The nickname "Little Joe" was a reference to Russian premiere, Joseph Stalin, the original customer.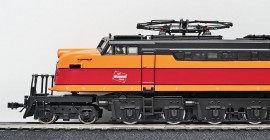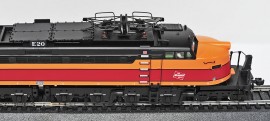 Details are nice on the locomotive, with sharp graphics and detailed parts all around, especially on the pantographs. The pantographs are mechanically operated and will raise and lower automatically depending on the direction the locomotive is traveling. The switchover occurs when direction is changed. The pantographs can be made to collect power from operational overhead catenary wires if you desire absolute realism. The locomotive comes with MTH's Proto-Sound 3.0 controller providing a number of engine and ambient sound effects, and has MTH's new remotely controlled couplers. A set of standard Kaydee couplers is included if the remote couplers are not desired. The Little Joe operates on MTH's proprietary DCS system and with some limitations, DCC as well. Personally, I use DCC for all my trains, MTH included.
Below is a short test run of the Little Joe:

NOTE: to keep the site running smoothly, product data is only refreshed once every 10 minutes, approximately. Click on a product to see the most up-to-date data on the seller's page.
Originally posted 2015-10-27 20:48:37.
You might also like: