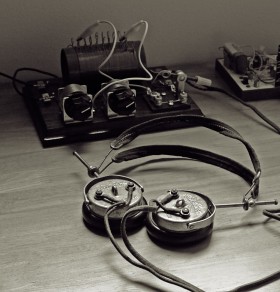 I've been poking around the airwaves with my retro Dunwoody crystal radio set from the Borden Radio Company that I built last year. I'm  here in the northeastern part of the U.S., but I've been picking up stations from all over the world when atmospheric conditions are right.
The signals from those really far away stations come in and out as the signals bounce off the ionosphere. I've picked up signals from China, the Midwest US, and even some Russian broadcasts.
These radios are super-simple circuits that trace their roots back to the earliest days of radio, when the technology was in its infancy. As such, they are easy to build and operate. I topped mine off with a vintage set of "Eisemann"  headphones from the 1920's. While the headphones complete the vintage feel of the set, these types of headphones are a necessity due to the low power of the audio signal. After all, there is no powered amplifier circuit like you'll find in modern radios in this type of radio, so normal headphones don't work due to the low power. If you can't track down a vintage headphone set, the radio kit comes with a crystal earphone that works just fine.
The only difficult part in the whole build process is the antenna. I needs to be outside and needs to be very long. It also need proper setup, such that it doesn't touch anything, otherwise, its signal-grabbing ability can be severely hampered. The Borden Radio Company makes an antenna kit with all of the necessary parts, but you still need to find a location for it, and a good ground to make it all work.
See my original post on these great radio kits for more info.
You might also like: