Is there such a thing as luxury in model railroading? If so, then Micro Metakit would be it.
Micro-Metakit is a German manufacturer that makes some of the finest hand-crafted brass model trains in the world. Each model is exquisitely detailed and painted at their factory in Bavaria. Models are produced in very small numbers making them instant collectors items.


This particular model is of the T18 1002 Steam Turbine locomotive. Rather than using a more traditional steam-powered pistons to propel the locomotive, the reciprocating drive rods were connected to the output wheel of a steam powered turbine unit. This accounts for the lack of various valve gear rods and overall clean appearance of the drive mechanisim.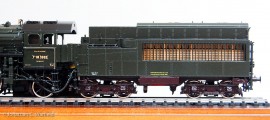 The tender on the real locomotive is a "condensation" type tender, meaning that once the water on board was converted to steam by the locomotive's boiler and used for propulsion, the steam was directed back to the tender through pipes and cooled by giant radiators which "condensed" the steam back into water. This meant the train could travel for longer periods without having to stop for water. As you can see, this model has a great deal of detail, including the condensing radiator screen in the tender.
Each kit is uniquely numbered from the factory. This particular model is number 046. The model comes packaged in a sturdy box that contains product information (in German) and a set of lint-free gloves for handling (we don't want any greasy hand prints on something this beautiful).
The model is powered by a maintenance free ironless, brushless electric motor for super-smooth operation. As far as I know, it's made to operate on DC current only, and I'm way too scared to even attempt to add DCC to this thing.
You might also like: