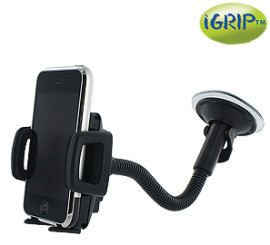 Now that you can get turn-by-turn GPS on the iPhone 3G and 3Gs, it makes sense to get a car holder so you can easily view the phone's display while driving. TomTom  makes a GPS applications for the iPhone, and will soon be releasing a companion car cradle that can mount to your dashboard or windshield. I use AT&T Navigator for my iPhone, and wanted a cradle now, so I looked elsewhere.
It didn't take long after a quick Google search to track down the iGrip Flex Mount from the iPhoniacs Store. It's a simple device consisting of a flexible arm with a suction cup at one end, and a cradle at the other. The cradle detaches and is completely adjustable, so you can use it for your iPod, and probably a lot of other devices, too. Releasing/attaching the suction cup is a simple matter of flipping a lever. The kit also comes with a dashboard mount base that you peel-and-stick to the dashboard, and then suction cup the holder to the dashboard mount base.
The suction cup is very sturdy and is nearly impossible to dislodge under normal use. The flex arm has a good amount of stiffness, but it does shake as you drive over bumps. I was able to read the display OK despite the shaking, but you can see that the flexible arm is pretty long, so it doesn't surprise me. Two supports at the bottom allow the normal power/sync cable to be used while the phone is docked.
For $19.95, it's a pretty good bargain and suits my needs fine.
You might also like: