Took the Diana out for a test spin.  Here is a sample of the first photos…
I doesn't get much more basic than shooting with the Diana-F+ (or the original F).  Everything is manual and I pretty much guessed at everything.  The aperture and focus have about three settings each, so there's little you can screw up, however; it also means there isn't a great deal of precision.  But that's what this camera is all about.
Despite being a super-simple photographic device, I still managed to mess something up.  The Diana allows you to select two picture sizes for your photographs. The smaller size allows you to capture 16 photos on a roll of 120 film, but the camera's internals must be adjusted with an insertable "mask" to make the smaller image on the film. The larger picture size setting allows only 12 photos, but you get a larger image on the film and the internal mask does not need to be used. Unbeknownced to me, I had set the camera on the 16 photo setting, but didn't insert the internal mask, so the edges of my images ran together. As a result, I had to crop a few, but one I left because I thought the double exposure effect was kind of cool.
The film was Kodak T-MAX ISO 100. I processed the film at 20'C with Kodak's D-76 developer diluted 1:1. Developing time was 12 minutes.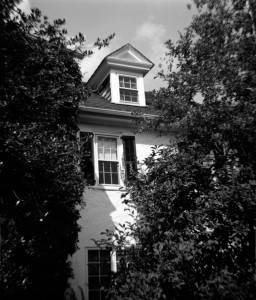 This is a shot of Bill's farmhouse.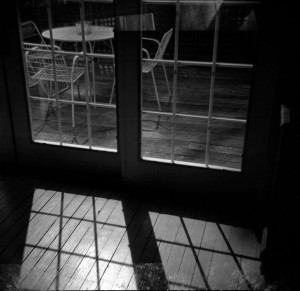 Sunlight through doors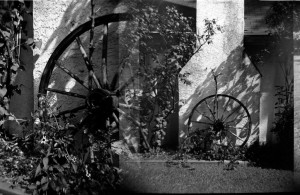 Double exposure, wagon wheel outside of carriage house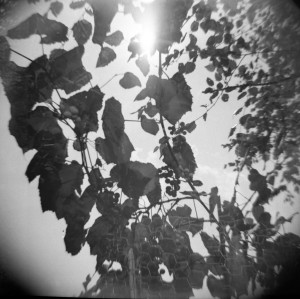 Grapevines at my house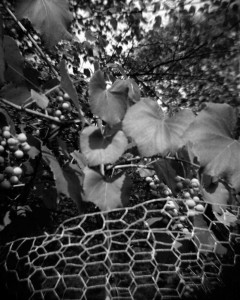 More grapevines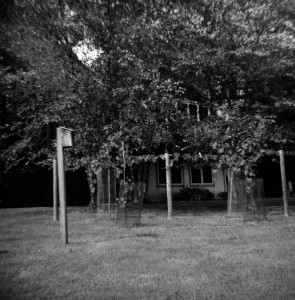 Birdhouse, grapevines, house.
As you can see, the photos are not the result of precision optics, metering or mechanicals, but they do have a certain nostalgic feel to them.  Because the images were cropped, only a few exhibit the telltale blurring and vignetting on the edges of the image.
You might also like: