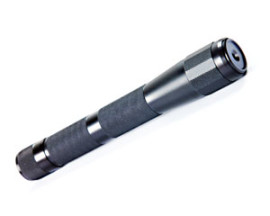 While waiting for my Spyder III Arctic 1 watt blue laser from Wicked Lasers to arrive, I put in a separate order with another company called Dragon Lasers for their Spartan 1 watt blue laser.
If you're not familiar with the Spyder III Arctic from Wicked Lasers, it's a powerful hand-held laser that looks like a light-sabre and is nearly impossible to get (they are starting to trickle in as of this post). Once word of the Arctic hit the streets, orders started pouring in and the little Wicked Laser company from Hong Kong was overwhelmed with orders. Many weeks, even months went by, and people were/are still wondering when they'd get their hand-held death ray. Many slighted customers cried "scam", but I did get my Arctic. In fact, it got here before the Spartan. I honestly can't tell you why I got it fairly quickly. I definitely didn't order it early. People have complained that they ordered an Arctic back in May of this year, emailed Wicked countless times, and got no response, let alone the Arctic. I ordered mine on July 10, and got it on Aug 9. During the waiting period, I sent three emails to Wicked, one of which I got a reply stating that they'd check into my order. Never got a follow up. Just a package delivered to my door with the Arctic inside.
Now, as I said, while I was waiting for the Arctic, I put in an order from Dragon. At the time all I was hearing was how Wicked was completely unresponsive to the Arctic orders and customer inquiries, I figured I'd never see the Arctic either. So I went with Dragon. It shipped fairly quickly but spent some time in U.S. customs in New York, but lo and behold it arrived today.
Spartan is a good name for this gadget. It came in a plain brown cardboard shipping box, no nice packaging, no instructions, no batteries, no charger, no safety glasses. I got all of these items with my Arctic without even asking.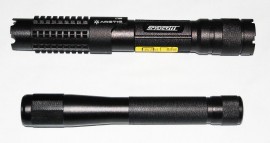 And the Spartan looks, well, spartan. It's not nearly as cool looking as the Arctic. It sort of looks like a plain ol' flashlight.
Well, as I said, it didn't come with any batteries, and I didn't have the foresight to order any beforehand (it takes two not-so-household CR123A batteries), so I just made a purchase for the batteries and charger from ebay and should have them in a week or so. Once I get them, I'll put the Spartan in a head-to-head "burn-off" competition with the Arctic and see which one reigns supreme as the "world's most powerful portable laser".
Update: Got some batteries and held the prize fight. Check out the results here (with video).
You might also like: