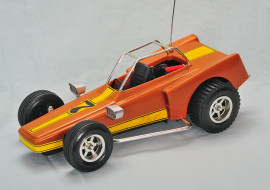 A quick whiff of glow fuel, a few turns of the needle valve, then some quick snaps of the pull starter, and the mighty Cox .049 howled to life.The incredibly loud WHAAAAAAH echoing off of all the houses in the neighborhood probably caused a few spilled drinks, abrupt ends to afternoon naps, and neighbors running to the front door in their bathrobes to find out what the heck all the noise was. .
It was the early 1970's, and it was the Cox Sand Blaster!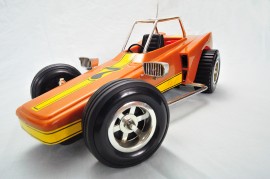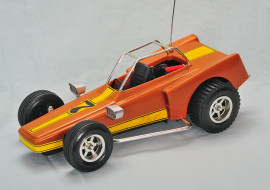 The Sand Blaster was one of scores of Cox toys powered by the legendary Cox .049 engine. The Cox .049 was introduced in the 1950's and was produced for over 50 years, and found it's way into cars, airplanes, snowmobiles, boats – you name it. The Sand Blaster was designed to resemble an off-road racing buggy. The model pictured here is an early example, identified by the chrome nerf bars, roll cage, headlamps and dual exhaust tips in the rear. In later models, the nerf bars, headlamps and exhaust tips were deleted, and the roll cage was black plastic (no chrome plating)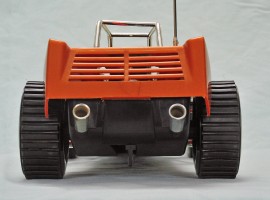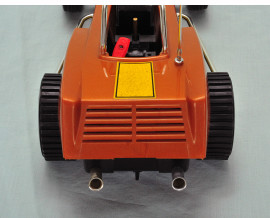 Slots in the rear helped with engine cooling, an important consideration for the tiny internal combustion .049.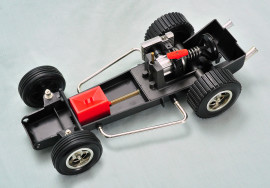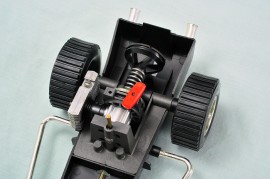 Another indication of an early Sand Blaster is the pull start for the motor. A lawsuit from another company forced Cox to remove the pull start from their car motors. The pull start was replaced by a twist knob on the drive shaft.
Cox as a company is no more as of early 2009. Estes, the maker of model rocketry products, purchased Cox in 1996, but later closed the division in February, 2009. It is rumored that another company, Auto World Slot Cars, is going to start reproducing some of the vintage Cox products, although the will most likely not be under the Cox name. No information is available on the Auto World website, but if you email them, you should get a response and be put on a waiting list.
Also, follow this thread on RC Universe for more info on the Auto World release.
Get ready to wake the neighbors again!
You might also like: