Updated: February 3, 2008
Updated: January 30, 2008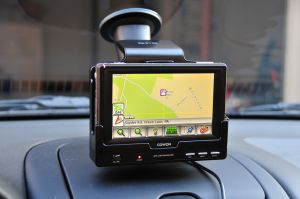 The do-it-all PMP gets the uber-upgrade…The Cowon Q5W comes with an impressive array of features by itself, but the recent addition of the GPS cradle gives it capabilities that no other PMP has. And, you can get it for free.





The cradle comes in a slick black box. Inside is the cradle, car power adapter, sofware, and instructions.



The software was easy to install. It offers a firmware upgrade before it installs the navigation software. As an experiment, I bypassed the firmware upgrade and installed the navigation software. It worked fine without the firmware update. I later went back and installed the firmware.


Here is the Q5 and GPS cradle suction-cupped to the windshield. You may be wondering if the suction cup grips sufficiently to hold the rather heavy Q5. Let me assure you, your windshield will probably fall out of your car sooner than the Q5 would fall from your windshield. I had a hard time getting it off even when the suction clamp was released. Fortunately, Cowon added a little pull tab directly to the suction cup to break the suction seal and allow for easy removal.


Yeah, you can still watch movies, although highly discouraged while driving!
Navigation software is typical of today's offerings. While it doesn't call out street names, it provides audible turn indicators and warnings. Routes are recalculated if you miss a turn. Points of interest (POI) allow you to quickly locate and plot routes to nearby gas stations, restaurants, hospitals, etc.
Update: January 30, 2008
Using the GPS cradle is a snap. Plug in the power cord in your car's power jack/cigarette lighter. The Q5 knows it's sitting in the cradle and presents you with a couple of safety warnings about watching Lord of the Rings while driving. Click OK and the normal Cowon interface is displayed with a new option on the right hand side: Navigation.
Clicking Navigation on the screen (or on the cradle) brings up a menu where you can plot a route, enter your home address, search for points of interest, etc. I entered my home address. Once this is done, you can easily plot any route back to your house with ease.
Plotting Your Route:

When plotting a route, you enter the address using a touch screen virtual keyboard, starting with the state, followed by zip code, town, then street address. As you're plugging in this info, the software is smart enough to fill in what it can. For instance, once you enter the zip code, you probably won't need to enter the name of the town. It will present you with the name of the town it found in it's records, and present that to you. Similarly, when you select a street, it will present you with a valid range ofhouse/business numbers for that street.
Audible Warnings:
Once you key in the destination, click Map Route, and off you go. A female voice begins to direct you. Voice prompts are given at the following points:
1. Start of the route
2. The next turn
3. Reminder of the next turn1/2 a mile prior to it.
4. Reminder of the next turn about 500ft prior to it.
5. An audible beep at the turn
Audible warnings do not include street names, only right, slight right, left, slight left turn instructions. Example: "In 1/2 mile, make a slight right turn." GPS units that audibly announce street names would add to the previous statement "…onto Gravel Pike" (or whatever the road name might be). The Cowon GPS does, however,display the street name on the screen.
Points Of Interest (POI)

Points Of Interest is a great feature (most GPS have this feature nowadays. I was glad to see it on the Cowon). Let's say you're going on a trip, but somewhere near your destination, you might want to stop to get a bite to eat, or maybe you figure you'll need gas at that point. You can plot your route to your desired destination, and select Points Of Interest (POI) near your destination. The Cowon will display a list of categories, such asrestaurants, gas stations, hotels, etc. Select your desired category and it will present you with a list of items in that category, specifically, the name of the businesses matching the category you selected. For instance, if I selectthe category "Gas Stations", the Cowon will show me Exxon, Mobile, Texaco, whatever gas stations are near my destination, and I can select the one I want to go to. TheCowon will then plot the route to my chosen gas station.
Map Display

The display can show a split view (above) where you get both a horizon view map and an overhead map. Or, you can show one of those options only.
Limitations: Just a few that I've observed.

As mentioned before, it does not audibly announce upcoming street names. This is a feature you pay extra for on many GPS units available today. It does, however, display the street name on the screen. I personally didn't find it to be that much of a hinderance, but you might have different needs.
Directed me to a couple of roads that have been closed for years. Not sure why this was. I live in a somewhat rural area, so perhaps road closures don't get updated as frequently. I simply bypassed the closed road and the Cowon replotted my route. In the old days of GPS, the units used to tell you to turn around because you've missed your turn. Today, they simply plot a new route within seconds.
Had some trouble differentiating slight turns from not-so-slight turns. Not a big deal. A glance at the screen confirms where theturn will take you.
No real time traffic updates. This would be a great feature to have, but as with most GPS units, it's a costly feature.
I will have screen shots of these options over the weekend, but I just wanted to add my thoughts since I've had some time to play with it.
Other Q5W articles:
Cowon Q5W Hard Drive upgrade.
Q5W vs. Archos 605
You might also like: