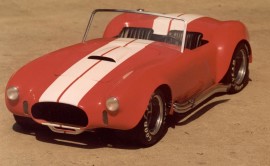 Here's your once-in-a-lifetime chance to own this rare collectors item from the skilled talents of Conley Precision. This 1/4 scale replica of the infamous Ford Cobra is all hand-crafted, and has a working internal combustion miniature V-8 engine. Other amazing hand-crafted features of this car include a quick change four link rear end, four wheel hydraulic disc brakes with dual master cylinder, custom ball joints with grease fitting, replica Hallibrand wheels with Goodyear style tires and knock-offs, oil filled shocks, stainless steel exhaust, leather interior, burled walnut dash with simulated gauges, fiberglass body, completely assembled chassis. Starting bid is $17,500, so go bust open that piggy-bank and pull out some serious coin!
Sorry, no items were found to display. That could mean that these items are currently not available or that there is a temporary problem.
You could try checking later, or go and search eBay directly.
You might also like: