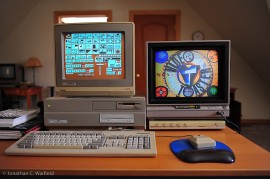 In 1990, a small startup called NewTek set the video production world on its ear when it unveiled the revolutionary Video Toaster and ushered in the era of desktop video production.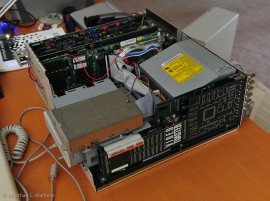 The Video Toaster was a combined hardware/software solution that turned a desktop computer into a Hollywood digital special effects studio. The hardware consisted of a special expansion board inserted into an Amiga 2000 computer, and once installed and properly configured, the Video Toaster could perform a plethora of video effects. First, it was a sophisticated "switcher", enabling the operator to switch between various video input sources and apply scores of digitized transition effects from one scene to the next. Secondly, it was a sophisticated 3D rendering and animation studio that enabled the user to create complex 3D CG renderings that could then be animated. Chances are you've seen a Video Toasters capability in this area if you watched TV shows such as Babylon 5 or Sequest DSV. Both of these TV shows used the video toaster to render spacecraft, underwater craft and the virtual worlds they travelled in. Keep in mind that this was 1990 and this could be done on a desktop. Prior to the Video Toaster, you could easily spend 100 – 300K USD for professional equipment with similar capability. Lastly there were Paint and CG titling programs.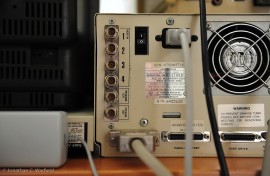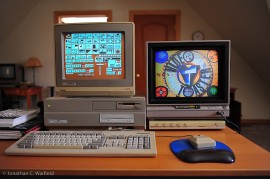 From the back, the Video Toaster card provided four video inputs and two specialized outputs for performing work. From the front, the Video Toaster made use of 2-3 monitors to allow the user to see the control interface on one monitor, and the applied effects and final output on either one or two additional monitors. The Amiga computer was ideally suited to the toaster because of its system clock ran at 7.16MHz, which was precisely double that of the NTSC color carrier frequency, 3.579MHz, allowing for simple syncronization of the video signal. Imagine producing Hollywood digital effects today on a computer running at 7.6MHz!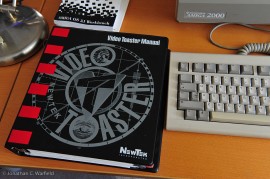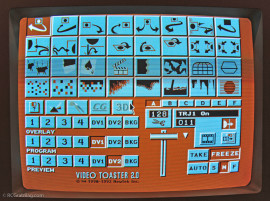 In the days before online help, you would normally get a giant manual to go with your complicated computer products. The Video Toaster was no exception, providing a nice three-ring binder for all of the documentation. On the right is the interface as seen on the computer monitor. The four rows of buttons are one of six screens of buttons for various switching effects. The graphic on each button gives the user an idea of what the transition effect looks like. On the lower left are buttons for the Paint, Graphics and 3D programs and the various input selectors. On the lower right, more configuration buttons and the effects slider.
One of the limitations of the early Video Toasters was it's inability to do non-linear editing. Any effects applied to recorded video had to be done in real time, with the footage rolling as effects were applied. This changed, however, when Newtek released the Video Toaster Flyer. The Flyer was an additional expansion board that allowed video to be captured and stored on hard drive for later editing. We take this for granted on our PC and Mac's today, but this was quite an accomplishment back in the early 90's on machines that were running around 7 to 40MHz. The Flyer board was pretty much a computer in itself, with provisions for mounting 21(!) SCSI hard drives (7 in each SCSI chain on 3 SCSI ports) for capturing and editing audio and video (audio and video were captured on separate drives, probably due to processing and bandwidth limitations in the SCSI bus of the time).
I am in the process of completing my Amiga A2000 Video Toaster outfit and am also building an Amiga A4000T (T for Tower case) Video Toaster/Flyer system. Once operational, I hope to record some of my vintage Tamiya vehicles running around and edit them 1990's style for that real vintage feel.
Check out these YouTube videos on just what the Video Toaster can do:
This video is from a 1990 broadcast of the Computer Chronicles TV show where the founders and designers of the Video Toaster system demo its capabilities live.

Demo video from NewTek showing just what the Video Toaster can do. I love narrators that talk to themselves.

This is another demo video produced by NewTek.

You might also like: