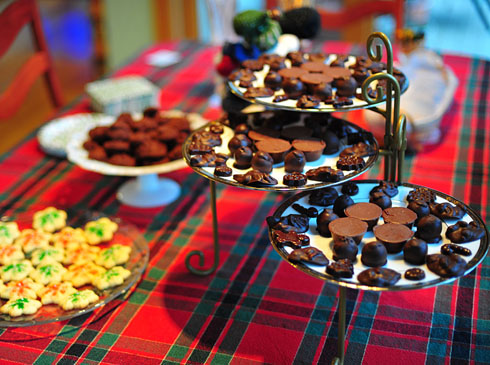 It's been more than a brief involvement in a new hobby since I first made chocolate this past summer. With the Christmas Season here in full swing, I've been busy making some established favorites as well as some new items.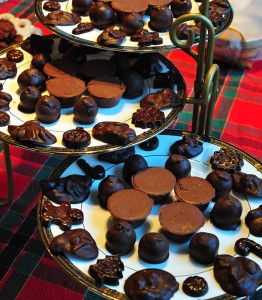 In the center of each plate are peanut butter cups. The peanut butter filling is made with equal parts 100% natural creamy or crunchy peanut butter and confectioners sugar, with a little bit of salt to taste. I also throw in some graham cracker crumbs for some added "texture". To get the peanut butter inside the cup, you'll need a wide artist brush and a mini muffin baking pan. Take your melted tempered chocolate and with the brush, paint the muffin pan cups with chocolate. You'll need a couple of coats to build up sufficient thickness. Let the chocolate cool between coats. Soon you'll have chocolate cups ready for the peanut butter. Once the chocolate cups have cooled, dollop the peanut butter filling into the chocolate cups, then pour melted chocolate over the top to seal it up. Put in the refrigerator for a few hours. Once the cups are firmed up, turn the muffin pan upside down on a counter top and give it a good rap. The cups generally fall out pretty easily.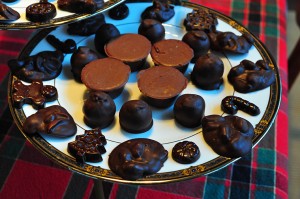 Surrounding the peanut butter cups are dark chocolate truffles. The truffle filling, also know as ganache, was made with a mixture of dark chocolate (untempered), heavy whipping cream and butter. You can find plenty of recipes on the internet. The ganache is rolled into balls and dipped into tempered dark chocolate. Yeah, I know, it's not exactly diet food, but we worry about diets AFTER the holidays. That's what New Years resolutions are for. The remaining candy on the outer edge is alternating dark chocolate peanut clusters, and solid chocolate pieces molded in holiday shapes with readily available molds.
Please be sure to see my original chocolate making article here.
You might also like: