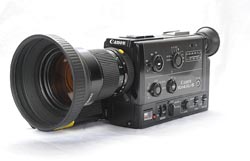 Back in the early 80's when home video cameras were just starting to become practical household gadgets, camera manufacturers released some of the finest, and final, super 8mm movie cameras ever made.
One of the finest was the Canon 1014-XLS Super 8 Sound Movie Camera. Released in 1979, it was a technological marvel for the time. It had a microprocessor controlled timing circuit to precisely govern the running speed of the camera. This was a leap in technology over earlier cameras that used mechanical timing. It had plenty of other advanced features too.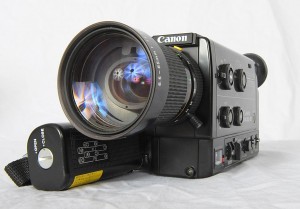 The camera had a fast f/1.4 lens for low light shooting with modern high speed films.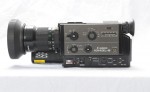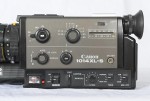 The majority of the controls were placed on one side of the camera body for easy access. Visible in these photos are controls for running speed, intervalometer for automatic animation effects, auto/manual exposure, fade in/out/lap dissolve scene transition effects, various sound recording settings, and the power switch. There was also a battery level meter and film footage counter for both standard 50ft film cartridges and larger 200ft cartridges.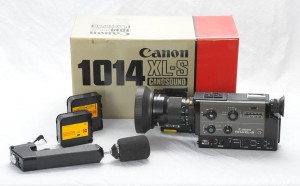 The camera was capable of recording sound on specially designated sound super 8mm film. The film had a thin magnetic strip of recording tape bonded to the edge of the film and a slightly larger film cartridge that allowed the film to run past the sound recording head. In the photo above are the camera, microphone, box and a cartridge of sound film (rear) and a cartridge of silent film.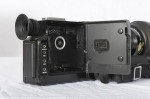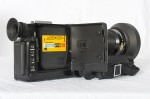 In the left photo is the film loading door open to reveal the film chamber. At the bottom of the chamber is the sound recording head. The photo on the right shows a sound film cartridge inserted into the chamber. Although sound movie film is no longer manufactured, you can still order numerous silent film stocks from various sources (see links below).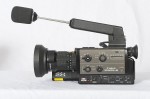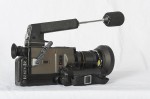 Shown with included boom microphone mounted.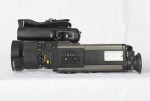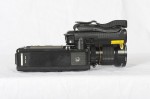 Top and bottom. Power Zoom controls are on the top. Lens could also be manually zoomed with a lever attached to the lens. Focus was manual only.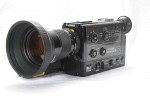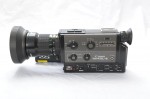 Some additional camera views. It is a nice looking camera and looks completely modern to me.
Super 8 film making is alive and well today. Although cameras are no longer manufactured, the film is still available and being manufactured by Kodak. Also, other vendors are taking various film stocks, like Fuji Velvia, and custom cutting and perforating it into super 8mm film stocks. These vendors offer processing services as well as digital transfer of movies on to digital media like DVD's, miniDV tapes, and hard drives.
I've used film and services supplied by Spectra Film and Video and there is also Pro8mm. Both are located in California, USA. Both offer film, processing, digital transfer, camera rental, and more.
The following is a short film I did primarily as a test reel, just to make sure the camera worked. One of the films got damaged during processing and has a scratch running through it. Spectra was kind enough to replace the film and offer free processing. This only happened once since I've used them. The first half of the film was shot in Kodak Ektachrome 64T reversal film. It's a new film stock from Kodak. Not my favorite, though. The second half of the film (with the scratch on it) was shot in another new film stock from Kodak; their Vision 200T color negative film.
Additional Resources:
Kodak Super 8 Films
One Super 8.org
Filmshooting.com
Super 8 Man
Spectra Film and Video
Pro8mm
Canon Camera Museum
NOTE: to keep the site running smoothly, product data is only refreshed once every 10 minutes, approximately. Click on a product to see the most up-to-date data on the seller's page.
You might also like: