BLI releases the J3a Dreyfuss Hudson in HO scale in their brass hybrid line of locos. The model I received contains the Paragon2 sound and decoder system. My early experience with this model is that it is a smooth runner and good looking model, with some minor sound issues.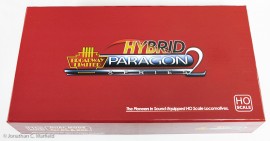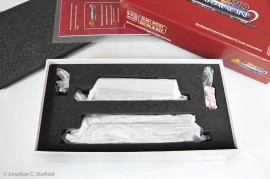 Unboxing photos show the typical BLI packaging. Easily survives what most shippers can throw, or kick, at it.


Details are nice and crisp. Paint is good, sharp. I'm no expert on locomotives so I can't comment on scale accuracy except to provide some detailed photos.


This is photo shows the MTH Dreyfuss on the left, and BLI's on the right. There are differences in details like small parts, molded in details, and lettering. Again, I'll let the photos do the talking.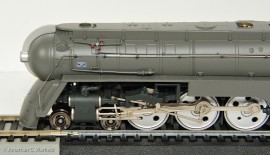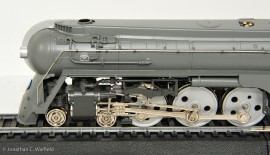 Here again we have the MTH Dreyfuss on the left and BLI on the right.


The MTH is on the top in this photo, and the difference that stands out here is the coal tender hatches on the MTH model that are omitted from the BLI version.
Both models are smooth runners. The MTH model is the heavier of the two, weighing in at 34.2 oz. (1011.4g) vs. 27 oz (799g) for the BLI model. I give the edge in detailing to the BLI model because it's a bit crisper, the colors seem a bit more realistic compared to the overly-shiny MTH model. As far as running, I give the edge to the MTH model. The Canon electric motors installed in the MTH models are exceptionally quiet. The BLI model exhibits a squeal/hum coming from the motor that has seemed to be a new phenomena with BLI's offerings as of late. My Centipede sets and Q2 hybrid make the same noise, and although I sent them back to BLI for servicing, BLI said the sound is "normal". So, again, the edge in smooth running goes to MTH. Lastly, as you'll hear in the video below, the sound coming from the BLI model is somewhat distorted at the slowest speeds.
I hope to have more comparison photos soon, and perhaps a side-by-side running comparison of the two models.
Have a look at my test run of the BLI model on you tube:

NOTE: to keep the site running smoothly, product data is only refreshed once every 10 minutes, approximately. Click on a product to see the most up-to-date data on the seller's page.
Originally posted 2015-07-14 15:45:48.
You might also like: