Broadway Limited Imports introduces the Baldwin Centipede in HO scale and I eagerly took delivery of an A1/A2 unit set decked out in the Pennsylvania Railroad freight paint scheme.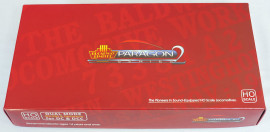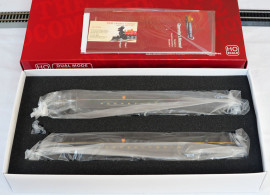 I'm drawn to the more unusual locomotives that have existed and the Centipedes definitely fit the bill. The prototypes were produced by Baldwin Locomotive Works from 1945-48. They often operated in pairs as you see here and weighed a combined 1.2 million pounds. Each was powered by two 1500hp diesel engines that, when operating as A1/A2 pairs, gave a combined 6000hp.



One of the more interesting features of the locomotive was the large number of drivers, which gave the Centipede it's name. 800,000 pounds of the 1.2 million total sat on top of these drivers, providing tremendous tractive effort.



BLI's HO scale models are nicely detailed, and come with their Paragon 2 DCC/Sound system. They're heavy too. The combined weight of the A1 and A2 units tipped the scales at 53.8oz (over three pounds). These two are decked out in the freight scheme, as denoted by the single large yellow stripe running the length. The passenger versions had the characteristic "cat's whiskers" pin stripes. I have a set of those on order, but they will probably not arrive for a few weeks.

Here are the Centipedes hauling some freight over the Logan Southern MRR Club layout;

Below is an older, short test video of the Centipedes:

Originally posted 2015-07-08 15:28:40.
You might also like: