After the hair-pulling DCC conversion for my Athearn FEF-3, this Bachmann DCC conversion was a cakewalk.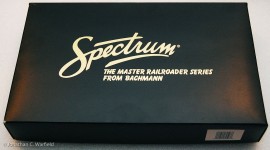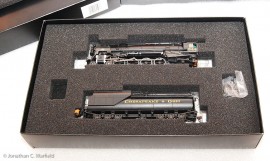 The Heavy Mountain is one of the few Bachmann offerings in HO that has a die-cast metal boiler on the loco. This makes it heavier than the usual plastic boiler locos. The tender, on the other hand, is plastic and quite light. Too light as I find with most Bachmann tenders, so I'll need to add some weight.



Detail is nice, except for the painted white and silver trim. It looks hastily hand-painted. The whitewalls on the tires have gaps and unevenness all around, and silver paint has flaked off of the cylinders in some spots.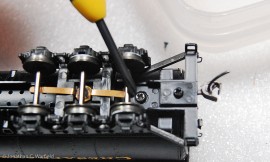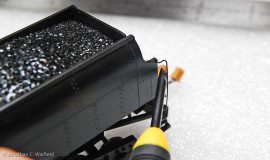 Converting this DCC-ready loco was super-easy. The tender is held on with two screws. Both are about a half inch from either end of the tender on the bottom (left photo). The ends of the two grab rails at the front of the tender must also be popped out. They are simply press fit into the tender body. Removing only one end from each grab rail will suffice.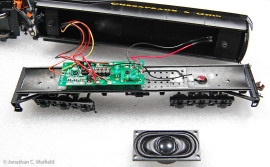 Inside the tender is a PCB (printed circuit board) with a standard 8-pin NMRA decoder socket. I am using a Soundtraxx Tsunami TSU-1000 Heavy Steam decoder for this installation. The speaker is a 35 x 20 mm (1.38″ x 0.79″) oval speaker and is a perfect fit into the tender chassis. The tender already has pre-drilled speaker holes on the floor of the chassis to allow the sound to exit. The PCB has to be removed in order to mount the speaker. It is held on with two screws plainly visible in the photo.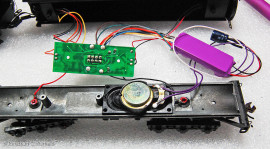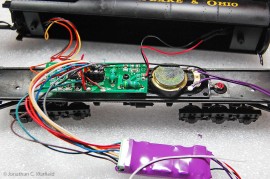 With the PCB removed, I strung a bead of glue from a hot glue gun around the speaker holes and pressed the speaker in place. The hot glue should provide a nice acoustic "seal" to isolate the front of the speaker from the back – necessary for good acoustics.
From here it's a simple matter of reassembling the tender and off you go!
Originally posted 2015-04-06 10:32:50.
You might also like: